The Sparrow – A place so nice I went there twice
Brunch has changed please see our new post article
The 411
The sparrow has got to be one of the places with the most buzz. I have gotten emails about it as well as read various forum postings raving about this place. Unfortunately, I'm slow to getting around to places especially since the places I get to see are scheduled a month in advance. Even though I may not be the first one to write about this place I can still feel good knowing that it is still an undiscovered gem to many others. Situated on St Laurent street south of St Viateur, The sparrow stands where the old Mile End bar used to be. Its name takes inspiration from the bird which is not native to North America but rather brought over from England and that is a great way to describe this gem of a place. Originally intended to be a bar with food, the liquor license took a long time to get so upon meeting a chef from England they decided to start focusing on food, and with just a tiny kitchen, have been pumping out amazing food that draws inspiration from England pub style cuisine mixed with Montreal's unique brunch flair.
At 1st glance
When you walk in you notice this wallpaper with sparrows on it and by the window you can find some sofas and a metal steamer trunk used as a table. At the end there is a bar where people can eat at and all around you can find tables and chairs. We went on Saturday at 1:30 and only had to wait 15 minutes so the lineup was not that bad but I do predict that once people start hearing about it, the lineup time will increase. Fortunately, they take reservations for groups of 4 people and more. The place has rich wood all around, picture frames with old photos in them and an amazing bar that can seat around 12 people. There's also small individual washrooms. The clientele is a mix of locals, most of which are young, early to mid 20's and a few 40 plus couples coming in once and while.
Food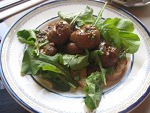 Before I begin, I need to advise readers that The Sparrow currently takes CASH ONLY; no interac, and no credit card, not even an evil atm machine in the building. It is plain old cold cash money, dollar bills (or coins since we no longer have bills but you get my point). The menu is a one page print out which can change from week to week although some of the classics will likely stay on it. In fact, I went a second time and found some new tasty items that were not on the menu the first time. The menu has around 10-12 items on it and has an interesting mix of fancy and classic pub style. Now, when I say pub style don't be scared, it's more of a British hearty place influence while still being able to offer some fancier dishes. The presentation of the dishes is refined yet still laid back if such a thing is possible. There are little things like different dishes and cups give that give the authentic laid back pub style while on the other hand, the presentation and refined taste of some dishes like the French toast make you realize that this is not an ordinary place. You can expect a price range somewhere between $12-$14.
The menu has two appetizers: Scones with jam and cream and Chocolate stuffed donuts both at $4. There's a breakfast sandwich ($10) that, although I did not have, looks pretty filling. You can get dishes like smoked salmon and scrambled eggs ($13); there's deviled kidneys and arugula on toast ($13), eggs Florentine ($12); French toast ($13); English breakfast ($14); and bubble and squeak ($3) which is potatoes and cabbage. While some of these can be a little more on the lunch side there still is a good and tasty representation in the morning food department.
The good thing about going to the same place twice is that I get to try more food. To start off with, I had a donut ($4). Actually it was more like 2 sugar coated balls (get your mind out of the gutter) as opposed to the classic donut look. Once you bite into them you get a nice warm chocolate taste that has that nice classic somewhat bitter taste which is so rich and delicious it is easy to just inhale those tasty treats. Next came the English breakfast ($14) which was a meat lovers dream. This plate has an egg on top of homemade sausage, bacon, potatoes, blood pudding, as well as another meat I cannot remember because all the blood required to go to my brain was redirected to my stomach. The plate is filling and absolutely delicious. In fact, I was initially hesitant about having blood pudding in the morning but I was so happy that I did: it was absolutely unbelievable!
Next ordered was the eggs Florentine ($12) which was a 2 eggs Benedict on a English muffin with spinach. The eggs Benedict was nothing short of prefect. Everything was what one would want from an eggs Benedict; the warmth, the nice membrane on the outside while still having a soft inside. The only downside was that it had nothing on the side (no fruit, no potatoes). I mean the dish was a hit but a little extra something would help turn a home run into a grand slam. I should also note that for $3 more you can get the Royal which has smoked salmon.
The deviled kidney beans and arugula ($13) came served on a piece of bread and although, one would not think of it as a traditional morning dish, it worked and it clearly delivered in the taste department. I also think it's a good option for those who prefer something more lunch oriented than the usual salty and sweet brunch options. Lastly, came the smoked salmon and scrambled eggs ($13). This dish was a nice scrambled egg on a toasted thick brown bread slice and a strip of salmon under. I liked the scrambled egg taste although my friend who has the dish mentioned that she prefers the scrambled eggs to be warmer. I felt it wasn't cold but it was not piping hot so I will leave that decision up to you. I did, though, feel that the single strip of smoked salmon was kind of skimpy and would have liked to see more.
The French toast ($13) is generous beautiful plate with a thick piece of perfectly egg infused bread. There is a nice dollop of fresh cream and some in season fruit (which in our case was berries) as well as some nice warm apple wedges. Before I ordered it I kept staring at other peoples plates and when it came to my table I was in love. The taste was even better than the presentation. Everything on this plate was perfect and when I was done I was literally stuffed.
Overall the menu hits high notes. I would suggest fixing the smoked salmon scramble and the eggs Florentine so as to offer more on the plate but there is no denying the outstanding taste and I feel more than confident that with time not only will this place be on your list of top places to go (which it is for me now) but the menu will evolve and change. They will find new ways to innovate and fill our stomachs with unbelievably tasty food.
Service
Service here is great! The staff has a laid back and welcoming approach while still meeting all your needs. They were helpful in explaining the menu and where funny and provided and amazing service, not missing any refills.
Vegetarian
Most of these dishes have either meat or fish and being coupled with a pub influenced one page menu the vegetarian and health option are limited to a handful. The eggs Florentine and French toast will work, as will the doughnuts and scones ($4) but other than those options you're out of luck. As for vegans, you may want to avoid it.
Wrap up
Very rarely do I get so excited over new places, but this one has the makings of a great one. The food is great, the staff is nice and friendly. The prices are a little higher than most places but you are getting a higher caliber meal so I feel it's merited. While the wait can be a couple minutes and this will likely increase as this place becomes more popular, I strongly suggest checking it out (just as long as it's not when I go because I want a table).
5322 Boulevard Saint-Laurent
Montréal, Qc H2T 1S1
(514) 690-3964

Sat- Sun 10:00-15:00
MAP

View The Sparrow in a larger map
| | |
| --- | --- |
| Bottomless Cup Of Coffee | YES |
| Credit Cards | NO |
| Web Site | NO |
| Debit Card | NO |
| Kid Menu | NO |
| Vegetarian Friendly | YES |
Price
$$
$12-$15
Overall
4.5/5
Wheelchair Access
NO
0/3
Parking

Parking Meter & Free Street

Medium

BUS
Metro

11 minutes
5 Comments »
RSS feed for comments on this post. TrackBack URL
---