Home of the legendary Mish Mash
The 411
Cosmos is a place that you will likely have heard of as a Montreal Legend, a small 11 stool greasy spoon that serves up some really well priced egg dishes and their famous Mish Mash.
At 1st glance
As you pass by Comos you have to look carefully as the sign is faded. There's Christmas decorations in the window and the interior looks like a textbook greasy spoon. So why go in, you ask yourself? Well, put your doubts aside and get in line, you are about to experience Montreal Breakfast history. In the summer there are a couple tables outside and during the winter there's a line-up. This is not your typical go eat, get comfy and read a newspaper place; this is a get in, place your order, sit, eat, pay and leave kind of place. The turnover is quite fast and the line-up is usually 20 minutes.
Food
The menu is your classic small short order eatery. The food is greasy, it may not be good for you but woaaah nelly, is it good. The menu is egg heavy so you will find classic eggs dishes and omelettes. Everything is cooked on a single grill. The main dish of legends: the Mish Mash is $7.50 and is literally a mish-mash of eggs, potatoes, red peppers, pepperoni, cheese and whatever breakfast meat is lying around. It's incredibly filling and while it may not be good for your cholesterol your stomach will thank you. Another good option is the Half and Half ($7.00) which consists of 2 eggs and 2 meats (sausage and ham). There are free refills for your coffee and if you sit outside you can keep the coffee at your table, but you just have to remember to return it.
Service
Service is an experience: it's a 2 man operation, one guy who takes your order and the chef. They're always busy but they're very nice.
Vegetarian
To be honest this is not the place you go to if you are vegetarian. Many of the dishes come with meat; there are likely some egg only plates although the grill has tons of meat on it so you will get cross contamination. If you are vegan don't even bother, there is nothing for you except maybe the coffee.
Wrap up
Cosmos is not fancy nor is it fine dinning, it's a greasy spoon but you are experiencing a Montreal legend. There may be places that offer similar plates but you they can't replicate that unique charm that makes Cosmos a landmark.
5843 Sherbrooke St West,

Montreal, QC H4A 1X4(514) 486-3814
MAP
| | |
| --- | --- |
| Bottomless Cup Of Coffee | YES |
| Credit Cards | YES |
| Web Site | NO |
| Debit Card | YES |
| Vegetarian Friendly | NO |
| | | |
| --- | --- | --- |
| Price | $$ | <$10 |
| Overall | | 3.5/5 |
| Wheelchair Access | NO | 0/3 |

Outisde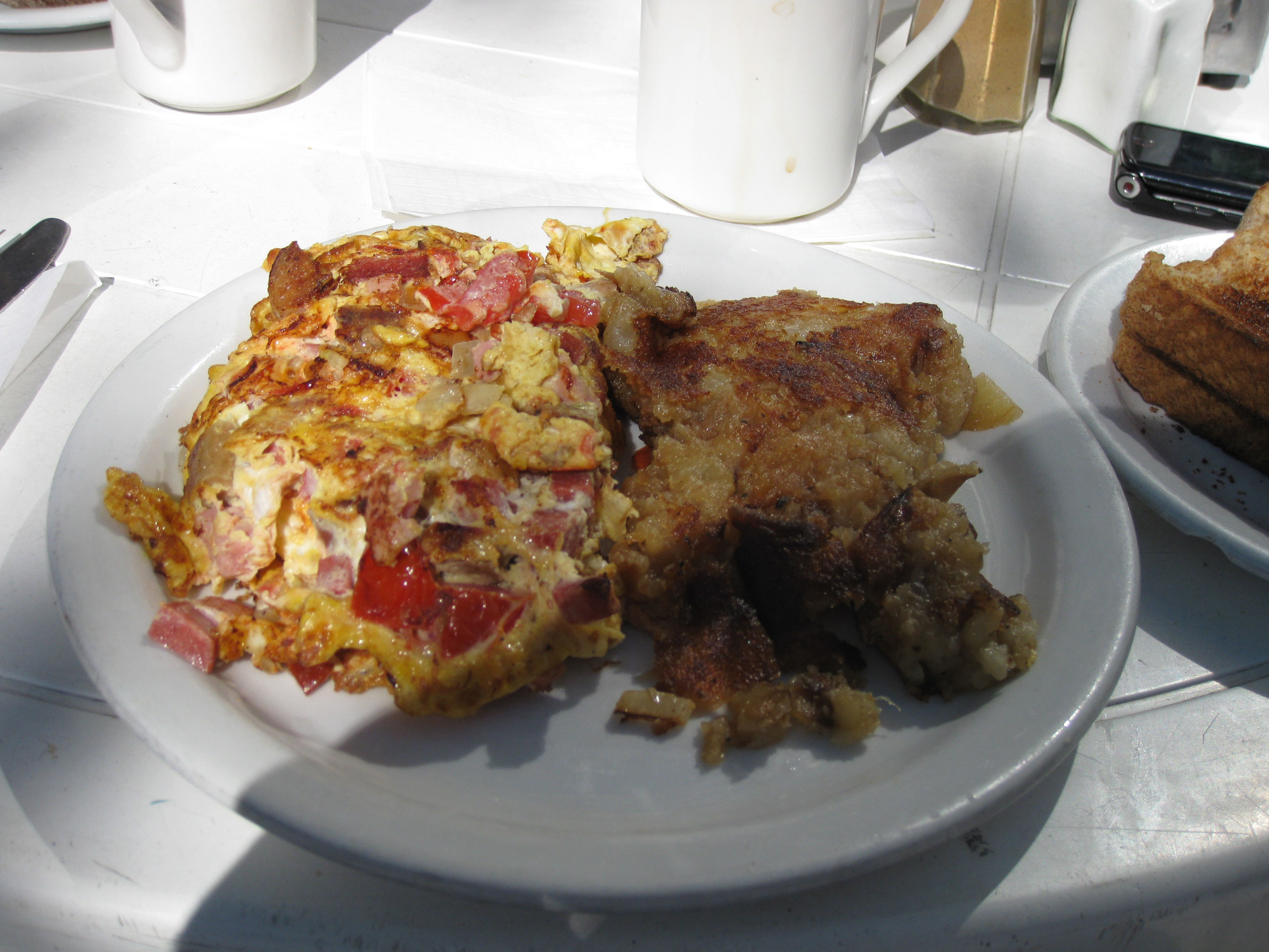 Mishmash ($7.50)

Half and Half ($7.00)

Inside

Inside
6 Comments »
RSS feed for comments on this post. TrackBack URL
---