Top Montreal BRunch (the breakfasty kind)
In the final segment of our top montreal brunches we have covered the best new brunch of 2014, best ethnic brunch, best local / organic brunch, best lunchy kind of brunches and now best breakfasty brunches. When we say "breakfasty" we mean brunches that are classic in the sense that their menu will give you pancakes, french toast, waffles, eggs… you know those classic dishes you grew up on. Nowadays the trend is to go for dishes that are more lunch than breakfast. Smoked salmon on a bagel will no longer cut it, people want gravlax, halloumi cheese and gluten free bread. This section is in recognition of the classic places that stay true to the the classic brunch dishes and make them stand out.
Regine Cafe (1840 Rue Beaubien Est) has established itself as a go-to brunch spot, and it has the lineups and satisfied customers to prove it. With stand out french toast, waffles, mish mash, and even oatmeal you get that classic brunch feel with a few fancy treats. They dress up their waffles and french toast. It's this creativity that sets it apart from your run-of-the-mill breakfast spot and propels it as a Montreal must go to spot. The only issues you will find here is a long lineup and one that starts early at that. Coupled with no reservations you will need to be patient or an early riser if you don't want to wait too long to get in.
L'avenue (922, avenue du Mont-Royal Est) is the reigning champ in terms of brunch in Montreal. For years there have been people lining up to get a seat and a taste of their dishes. The menu covers all the classics and expands on them. You get many options of eggs Benedict, pancakes, and omelettes among other classic dishes. The menu is multiple pages so you get many options with many different ingredients and inspirations. Their dishes are incredibly filling and their potatoes in those little red pots are iconic. The price point is fair considering how incredibly generous the portion size is. Finding fault with L'avenue is difficult although it would be nice if the volume inside was a few decibels lowers.
Beauty's ( 93, avenue du Mont-Royal Ouest) is a time capsule. When you walk in, you feel like you have been taken back to a time long ago. This luncheonette is an iconic restaurant that has been helping fill Montrealers' stomachs since 1942. This is where I had my first challah bread french toast, one of my first reviews ever and i even try to grab a mango magic smoothie to go after some of my runs in the summer. As institutions go this is one of the big names in Montreal brunch. The down side to Beautys is that the menu does not change, the dishes may be classics but they really do not go outside of their comfort zone. This is a positive trait if you are a brunch / breakfast purist although if you like things to get changed up a little this may not be a place you come to regularly.
Brasserie B (1249 Avenue Bernard)  is what Bernard street has needed for some time, a proper brunch place, excellent service, impressive tasty dishes, and the professionalism to handle any size group ranging from a table for two to a large birthday or special occasion seating. Their dishes are all classic brunch dishes and their menu is the correct size walking the tightrope between just enough choice and still having options. With its terrace in the summer and pain perdu we saw ourselves coming back here often and recommending it to many others. If we had to find fault it would be that the menu does not change much, if at all, so if you need stuff to change this could be troubling after you have had every item on the menu a couple times.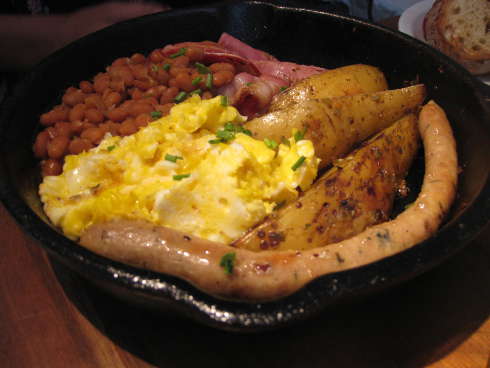 Le Cartet (106 rue McGill) is another Montreal institution with the lineup to prove it. It is the undisputed heavyweight of the Old Port. With its egg focused dishes they do get creative with their dishes and make, not only a plate you enjoy looking at but also, something you enjoy eating. Their plates combine lots of classic items like crepes and french toast and some other items you would not expect like figs and potatoes in duck fat. So, it is a touch of refinement to your morning but still a classic brunch. The price and the lineup are the only criticism we could come up for Le Cartet since everything else here is a well oiled machine.
Arts Cafe ( 201 Avenue Fairmount Ouest) changed ownership and direction a while ago. This was a good change and a truly enjoyable meal. There isn't anything too flashy here but it's the small tweaks to classic dishes like their buttermilk waffles or their eggs benedict. Their terrace in the summer is a great place to be at. Criticism is difficult since they do what they do well, the bill can climb when you add coffee to it but other than that they were quite impressive.
Gros Jambon (286 Notre Dame Ouest) is a diner, in the old port. Now diners are something not that common in Montreal nowadays. We have Deli's bur diners are more of an American restaurant and there are not many here. The menu has all the classic dishes like pancakes and french toast with some more american classics like pancakes and waffles. The location is small and quaint, it has that old diner feeling that you normally have to go to New York city to get. As criticisms go there aren't many in that it does what it does well.
 The Winner is?????
Choosing a winner here is difficult since many of these places are legends in the realm of brunch and have a loyal and large following for a reason. They are good at what they do and what they do is make great brunches. I like to say that whoever wins we all win, which technically is true but like the movie (and tv show) Highlander used to always say: there can only be one. That winner is L'Avenue with the main reason being that when you calculate all variables – price, portion size, taste, creativity, service options – it wins. It is always a safe bet, it will not let you down, it will not break the bank and they have incredibly delicious dishes.
No Comments »
RSS feed for comments on this post. TrackBack URL
---