Mother's Day is the ultimate time of the year for brunch. Restaurants put out their best dishes to make sure that mom has a special day. Picking the perfect mothers day brunch is no easy task. Do you go for ambiance, for a particular type of food, ease of access, all you can eat, healthy options? With so many choices, we've put together a guide to help make your mother's day decision-making process easier.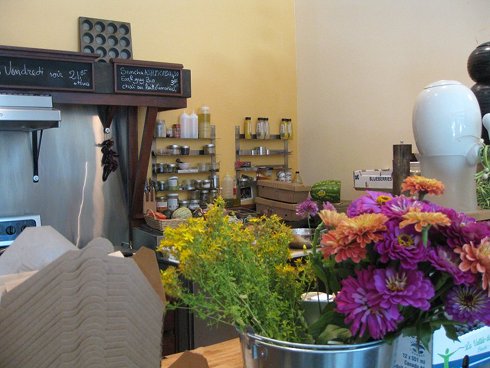 Fancy Brunch
So you want something fancy for mom, a place with an impressive décor and food to match? Budget permitting, Maison Boulud (1228 Sherbrooke St W) is a place you will find fancy. Maison Boulud is situated in the Ritz Carlton hotel, one of the cities fanciest hotels, it is part of the Daniel Boulud restaurant empire, the man who has impressive restaurants around the world and the Michelin stars to prove it. The menu is a three course brunch at $85 and it is the day they open the terrace. Reservations last year filled up quickly and when I checked a while ago there seems to be some spots available.
Keeping with the fancy and proper places, Birks Jeweler (1240 Phillips Square) has a brunch at $39.50 which is located in the actual Birks Jewelry store and the menu is done by Europea, the notable Montreal restaurant which has been making meals that are nothing short of impressive and over the top.

Verses Restaurant (100 Rue Saint Paul O)offers a fancy sit down experience and the backdrop of the Old Port. For $55, you get a table d'hôte menu with some tasty items like lobster as well as lamb. Capacity is large and service will not let you down.
Chateau Vaudreuil (21700 Route Transcanadienne, Vaudreuil) has a brunch for $49,95 and is impressive considering the amount of food you get as well as the quality and backdrop. Sadly they are already booked but this section is here so that next year someone will think about it and try to book it well in advance.

All you can eat Buffet Brunch
Buffet options are often popular on mother's day as large groups are hard to please. So a buffet offers the most choice for even the pickiest of eaters and let's be honest, some people prefer having dishes that are, for all intents and purposes, lunch. I know I have family members that are looking forward to a slice of roast beef and could not care less for any egg based dish. So with a buffet you can make all age groups and taste buds happy.
Le Montrealais (900 Rene Levesque Blvd) is the most impressive brunch buffet set in the historic Queen Elizabeth Hotel, you get a long list of items from their brunch buffet. The price is $59.

Sheraton Laval (2440 Autoroute des Laurentides) is another brunch option with lots of place and a good choice for those in Laval. Prices are $55.99 for adults and $27.99 for children (4 to 11 years old). Options are plentiful and parking is ample.
Restaurant Du Vieux Port (39 Rue Saint Paul East) has a $35 brunch formula with multiple stations and lamb on the menu. They have ample space and are a good choice if you have kids.
Mothers day brunch Safe Bet
Although many places will be serving brunch, you really want to get a place where you do not need to worry about waiting in line forever and can have a tasty meal. There are too many run of the mill brunches so why not give mom something a little different and special.

Holder (407 Rue McGill) and Brasserie B (1249 Avenue Bernard) make our list since reservations are possible, capacity is high, service is good, dishes are well done, tasty and not run of the mill. These two places are my go to spots for large group brunches. They do things properly and food is not sacrificed.

Salmigondis (6896 Rue Saint Dominique) is a lovely spot and if the terrace is open you are in for a treat, the food is impressive, service great, dishes creative and being in Little Italy is a different spin on normal Sunday brunch. Reservations are strongly suggested and will likely fill up since it is not enormous.

Ma'tine (1310 Boulevard de Maisonneuve East) is a place whose dishes will wow you with creativity and taste. Mother's Day is actually the only time you can reserve so try out this option if you think mom would like a non-traditional brunch but one that will be remembered for quite some time.
Hambar (355 Rue McGill)in the Old Port mixes tasty with a breathtaking décor, they take reservations and they have a fancy look as well as backdrop of the Old Port, which makes for a nice option.

An old favourite of ours, L'Orignal (479 Rue Saint Alexis), has a Mother's Day brunch. This is great to hear as we always enjoyed their brunch before they cancelled it a few years ago. It's also under the radar for brunch since it's a place that most people likely haven't heard as offering brunch for this weekend. Capacity is fair, decor is nice and cozy, food has never let us down, as an added bonus, if mom is a farm to table fan, then this is the place for her.

No matter where you go, feel free to look at the various reviews we have to help you make your brunch choosing decision. Happy Mother's Day brunch to all.
No Comments »
RSS feed for comments on this post. TrackBack URL
---