As the winter begins to drag on we all need something to help us make it through. Some escape to the a sun soaked beach, some go skiing, others find romance and hunker down in relations. All of these are coping methods to deal with the harsh Montreal winters; cold, ice, snow, limited daylight all take a toll. Although, one event in my mind truly shines a light to a dreadful period of the year: the Pied De Cochon Cabane à Sucre session.
This year we went on the opening weekend of February 14th. That's right – Valentine's day. What better way to spend the most romantic or depressing (depends how you see it) day of the year than to be with friends having an over-the-top meal?
Now, for those who have never been here is a quick guide. Reservations are done months in advance. On a set date, people fill out an online form where you state the dates you want. Later on, 1-2, maybe even 3, months you get a fateful call and they make your appointment. This is a stressful few months. I actually plan my vacations so that I am here to not miss the call. The menu is not published in advance so what we will write will be close to the menu but it can change if they want to modify some stuff or other seasonal items come up and provide inspiration. Over the years we have done many reviews of the maple and apple seasons. Each is impressive on its own and has a theme to it. The staff often dresses in a uniform and ingredients or themes are featured in the whole service. Nothing is predicatable: items like pork rinds, which I have seen from my first visit many years ago, were not on this season. You can rest assured you will get maple and some foie gras, a couple meat dishes, a dessert course and onslaught of food. Although, do expect to be surprised and come with an open mind and an open stomach.
This maple cabane season goes from February 13 until May 9th. They have a Thursday and Friday service start times of 17h30-18h00 and 20h00-20h30. The Saturday and Sunday has 4 services with start times of 11h00-11h30, 13h30-14h00, 17h30-18h00, 20h00-20h30 (do note that there are 2 start times as the may modify them. Each session if about 2 1/2 to 3 hours, the price is $65 for adults, $20 for kids 4-12 and free for kids 3 and under. They have high chairs but do let them know in advance since seating is limited. Price is $set and there is no deviation from the menu so no kids menu and no gluten free options etc…
Things to know before you go: if you are a picky eater you need to check that at the door.  Stuff like squid ink, brains, and tongue may end up in the items. If you are a vegetarian this is not the best idea as many dishes have meat and foie gras: the #1 enemy of vegetarians.
We started off with an Asian inspiration. The soup was a hot and spicy soup with some meat inside. This is quite difference from previous years as many other soups were thicker but this one is more liquidy than creamy and the spices are working magic with every spoonful.
There were dumplings brought out also with a special spicy sauce in a  side container and you really need to add the sauce to get the most out the dumplings.
There was also a french toast sliced like a grilled cheese. I missed this dish but it seemed to be the favourite of other people at the table.
The omelette had eggs, meat, veal and bison tongue, sweet breads all topped with iceberg lettuce. It had melted cheese on the top part of it and the outside was cripsy. The dish was tasty, some people were hesitant of the brains and tongue but I enjoy that. It was a fun dish to have and filling. I was not sold on the melted cheese which I felt distracted me from the dish.
The pasta dish was lobster ravioli with beans. They used a red bean in this dish which is an ingredient often used in Asian food. This gave the dish a totaly different flavour and in my opinion made me like it more than if it was all just lobster.
The meat section came at us with shock and awe. A half of a pigs head, nose, and hoof all glazed and topped with sausage links. You have to carve the dish so it can be tricky and some people don't like looking at their meat the way it is pre-preparation so we lost some people at that point. The meat was good and I even got an ear. The sausage links were short and plump but not lacking taste. They brought fried doughnuts to put on top of it to act as a bready base.
There was a rabbit done as rolls and stuffed with rabbit innards which were tasty and light compared to the other dishes. If you didn't tell someone what it was stuffed with no one would know.
There was a duck dish with squid ink. The dish does not look aesthetically pleasing and came out bad in photos but the duck was moist and tasty. This dish is disputed at the table; some loved it, some didn't; some pointed that the squid ink took away from the look and taste. We were told to have this dish last as the taste was the most intense.
Because all this meat needs a salad ,we had one – a small one with popcorn on top. It was nice to cleanse the palate although I prefer the ones from prior years with the tempura pork rhinds on them. I really miss those bad boys.
Dessert came at us with maple taffy, ice cream, pudding chomeur soufflé, cotton candy milk shooters, and beaver tails. It was impressive but many of us were bursting at the seams.  The ice cream had a tropical flavour to it and was fun. The shooters were simply milk and cotton candy but were fun and great even for the little kids at the table. The pudding chomeur soufle was kind of cool but you need to dig all the way down to get all the different ingredients in this dish to have the whole eperience.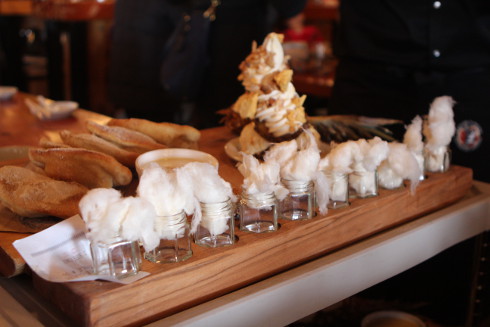 So, there it is folks: the Cabane à Sucre Pied De Cochon Maple 2015 roundup. If you are going, let us know what you think in the comments section.
3 Comments »
RSS feed for comments on this post. TrackBack URL
---