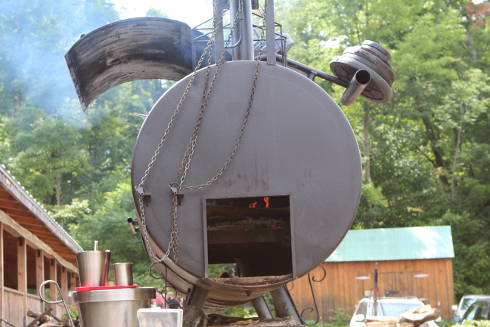 As summer peaks and we look to the end of August, it's Cabane a sucre time. No this is not an error, you read correctly, this is not the cabane a sucre that comes to most people's mind but rather the Pied de Cochon cabane a sucre harvest session.
Did you know it was initially called the apple season but recently has shifted to the harvest, and now you can really see what they mean by it as there is an enormous garden up front and further from the cabin. So you can safely say that most of the food on your dish comes from less than a kilometer away.
We have been going to PDC cabane a sucre feasts for many years. Over the years, we have seen it change, not just the people at our table but also the food. The different inspirations, creations, some favourites come back and others go away for a while. What stays constant is that for $59 you get a feast brought to your table and leftovers to last a while. We will break up this post for both newcomers to PDC and for seasoned veterans so hold on tight and get your stomachs ready.
1st timers
So it's your 1st time at PDC or maybe your PDC curious and want to see what it is so you can decide if you want to go. Well the 1st thing to know is that a reservation is needed and booking is done in advance, well in advance. In fact, I plan my vacations around the dates. The 1st date to reserve for the winter session is usually in December, the 2nd date which is for the apple one is in April. You have to go their website and sign up online as of midnight. Selection is done on a 1st come 1st serve basis. What this gets you is your name and the amount of people you want in a list for someone to call you at some point and then officially chose the dates. You can specify your preferred dates on the site. Although booking early increases the odds it will work out. Once the date is picked, they take a credit card hold and then you wait until the magic day arrives. This whole process is anxiety inducing, you need to move fast to book, hope the site doesn't crash like a few years back, wait for that fateful call, hope you don't miss it, hope none of your people bail on you, because no shows get charged to the person whose credit card is on file. So get ready and be prepared, but once you are there you are presented with an impressive array of dishes. There will be lots of meat, a fish dish, expect foie gras, multiple dessert dishes, a soup, incredible presentations, the possibility of ingredients you are not used to such as bison tongue, squid ink… Portions are large, dishes are rich and heavy. If you have a small appetite and like teeny tiny dishes and are squeamish of dishes that may have pigs feet in them or other meat that you have never tried then be prepared or give your spot to someone with a taste for adventure.
The Food & Drink
Now for veterans and curious eaters here is what we got this year. Starting with the drinks we were pleasantly surprised to find our favourite moustache clad bartender working there. In our books the creator of some of the best drinks in this city. Now the drinks here are not his creation but he did fill us in on some of the drinks and what goes into them like the fact that the cabane ordered a ton and a half of peaches for 1 drink on their menu. So imagine having to prepare a ton of peaches for a single drink, this gives you an idea on the volume of food they go through.
They have a variety of cocktails as well as beer and wine. Selection available is: Blueberry mojito, Gin peach (gin with peaches and peach bitters); Strawberry with house ginger ale and rye whiskey; apple slush with calvados; absinthe lemonade (with mint rosemary). We had the gin and peach drink, as well as the absinthe lemonade. I like the absinthe lemonade it had a different taste from your everyday lemonade, the fact that absinthe is such a pronounced flavour you are pretty much forced to drink it and enjoy it the way a lemonade should be enjoyed, by being sipped, not chugged. The gin drink had homemade peach bitters in it as well a peach pieces which gave a subtle peach taste and not overpowering fruit in every sip which is the way I like my drink. It
went down easy and wasn't too complicated.
Our first round of dishes came out with a melon soup which had tomato and pepper. Soup is one of the PDC items I always enjoy seeing on the menu. Our bowls were licked clean. This year, the soup was brought in bowls and we did not refill it ourselves since other years they would leave a ladel and a large bowl on the table. I prefer it this way as there is lots of food to come so why fill up too early.
They also had bread and prosciutto. The bread was made on site and the pigs are raised on site as well. It went nicely with soup and worked as a compliment more than it's own dish. I used the bread to help mop up the last bits of soup.

A gnocchi plate came up next with bacon, peas, ricotta and cheddar, I made sure to have 2nds and thirds of this dish, as I quite enjoyed it knowing full well I would fill up for the big meat dish coming up.
There was a pear and foie gras dish with cheddar. The foie gras was plentiful and went well with the warm pear. This is one of the more memorable dishes thanks in part to the large pieces of foie gras. This is the stuff that people wait for and for what made pied de cochon famous. The taste is of this dish is rich and incredible; you cannot go wrong with foie gras unless you don't like it, then the problem is with you.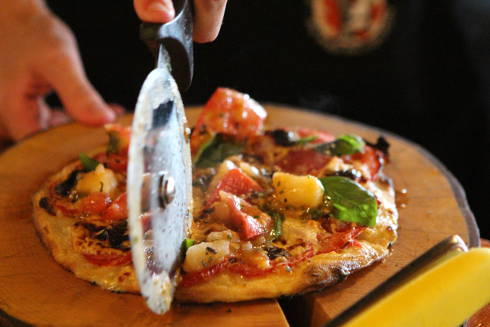 They had a pizza this year, which I don't remember ever seeing before. Apparently one of the chefs spent some time learning in Italy. The crust was nice and thin how I like it but I was not a fan of the topping and this became a forgettable dish as a I look back. In fact even a week later I could not remember what it was topped with and I usually remember all my meals. I do hope they modify it, as in some previous years the pdc dishes change from the beginning to even a few weeks later.
Next up they brought up sturgeon, it was in a thick sauce and had some mussels on the plate. The sturgeon was quite a large piece and cut in thick strips. I alway look forward to the fish dishes at the cabane as I often find they are on of the most memorable although the only downside is that they are a small portion. This time the opposite was the case, the piece was large and portion size for everyone was generous, although it was tasty I felt the taste was not as impressive as other years. I still dream of the 1st apple season when they had a fish wrapped in newspaper where every bite was incredible. This dish fixed the issue of there never being enough but it fell short when compared to previous fish dishes from years prior. Now please understand I am holding it up to an incredibly high standard and as fish dishes go, if you had this at any restaurant you would be more than impressed not only by portion size but taste as well.
The vegetable pasta also came at the same time. This is the one dish where the table was most divided on and by divided I mean I was on one side and the rest of the group felt the opposite. The pasta dish had peas, tomatoes, thyme, mint, and basil. I liked it because it's a simple light pasta dish, I also have a huge pasta bias and I enjoy any opportunity I can get to have. So putting it aside and being critical it's a simple light pasta dish. It isn't as intense as some of the other dishes, I don't think its intent was to be intense. So I can see how people at the table were not impressed, it was just too light. I still liked it and I even had it the day after as leftovers and I still enjoyed it.
Next up came the pot de feux and this is the dish we were warned about. They told us not to fill up on previous dishes because this will fill up every square inch of space your stomach has. The pot de feux came to us in a large pot with white sausage, turnip, cabbage, carrots, potatoes, and peas. This was accompanied by a large container of meat.There was duck, chicken, bison tongue, bone marrow, ribs, and pig's foot. The sheer quantity of meat was more than we can handle, we simply could not finish it. This was the standout dish people were waiting for and was, for lack of a better word, intense.
With a small break after this dish we tried to find space for dessert and were greeted with some tasty sweets to try to give us a sugar rush to offset the meat sweats. First was a mini ice cream cone which was half peach, half vanilla and with fire water.
They had plump little donuts with honey and blueberry. The blueberry filling was generous and the donuts were not too sweet and quite filling. They really reminded me of Bombolone which are Italian style donuts. They did an impressive job with these little guys.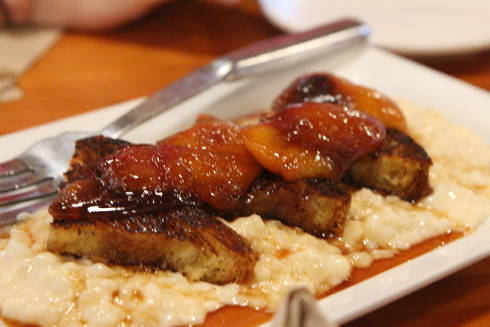 They also had a French toast with rice pudding. The rice pudding is a nice shout out to a traditional Quebec dish and the toast is well FRENCH TOAST!!!! I mean what more can you ask for. I had a few bites of this and I did enjoy it but I was about to slip into food comma.
They had a Clafoutis on the menu that many pasty fans would be quite pleased about. It wasn't enormous and was topped with ice cream. Sadly we didn't have enough place to try it. So I can't even tell you what fruit was in it.
Lastly was the piece de resistance a tiramisu in a flower pot. With what looked like a pot filled with dark earth and a teeny tiny little flower they cut the inside of the pot and then turned it over on the table emptying what seems like dark earth but is actually incredibly dark and tasty tiramisu. They did an incredible job on presentation here as well as the taste of the tiramisu was spectacular.
Taking a look at this years Cabane for new visitors and veterans here are some observations and overall thoughts. You cannot beat the price you pay $59 for a copious amount of food, loads of meat and you even get foie gras. No other restaurant in town gives you this much for that price, period.
There was less foie gras this year than in past years, you still get a massive chunk in the pear dish at the beginning but compared to previous years it used to be in more dishes.
The pot de feux meat fest is nothing short of impressive, it is the meatiest PDC dishes in all of the ones I have been to over the years. Both in terms of quantity and varied selection. If you are a meat lover you will love this. They did however play it a little safer with meat selection in the sense that last year there were lots of non traditional meats ie brain which made some less adventurous eaters a little squeamish. You do have tongue this year but that's as out there as it gets.
Desserts did not disappoint, as they always do a good job every year and this is no exception. I would of liked to see an apple pie like a few years back but you can buy one on your way out if you crave it.
You will enjoy this season if you are hungry, you like meat, and especially if it's your 1st time. This is one of the safest ones in terms of 1st time satisfaction especially with the lack of brain and more adventurous dishes.
If you are a returning veteran you will likely get a little more full than previous years and walk away with leftovers. The meat dish and pear with foie gras dish will be stand outs, although in comparing it with other years there may not as many shining star dishes. It's a solid filling meal, the dishes are rich, presentation is over the top for a few dishes making it fun. It's a safer PDC that previous years so for those who love risks maybe next year, for those who like to play it safe you're in luck, and for those who love to eat, bring a bib.
No Comments »
RSS feed for comments on this post. TrackBack URL
---