With a big emphasis on local and organic this year, I felt it was time to give some attention to some spots that have managed to combine brunch with ingredients that are local and organic.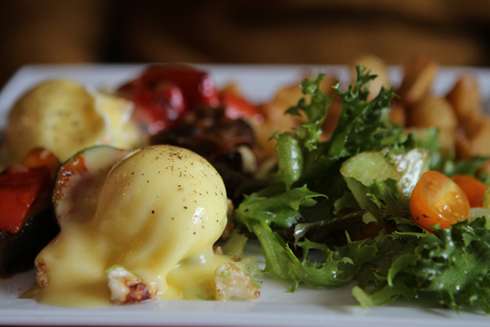 Newcomer, la Recolte ( 764 Rue Bélanger) offers a constantly changing brunch with local ingredients. Trust me when I say this is not easy. Most, if not, all of their menu is local and or organic. Now, some items like their soy milk are not local but they do try to get almost everything they can locally. They get very creative with their menu and often you will find that it changes based on availability. On the negative side, it can get expensive but that tends to be case when you go to local & organic restaurants.
Sain Bol (5095 rue Fabre) is another spot where they source from local farmers and have a small menu with a few items. Everything here is to die for. The dishes are always fun, the place is very relaxed, and they even have chai tea refills instead of coffee. Their ingredients will change as time goes on due to market availability although the dishes, as a whole, will still remain. Their price is quite fair but it is cash only so keep that in mind.
Lawrence (5201 Blvd. St. Laurent) has often been known for making great dishes and making brunch exciting all from their humble beginning years ago working out of the tiny Sparrow kitchen. They proudly list all of their suppliers on their site so you can see that they are local farms and organic. That level of transparency should be applauded in a time when people are asking serious questions as to where their food comes from. On the negative side, the price at Lawrence can climb and your bill can get a little high. I also find the line is discouraging and unless I feel like getting there very early I will tend to skip it.
Rumi (5198 rue Hutchison) is another place that people more likely associate with ethnic than as local or organic. However, they state in their menu that all their beef is free from hormones or antibiotics and they try to use local Quebec products and their eggs are organic. The dishes are tasty. I enjoy having brunch here or even a tea as their terrace often has space in the summer and is a great way to start your day. My only negative point would be that their statement is open to interpretation and doesn't really discuss the other meat they use or at what percentage they are using local products.
The Winner is?????
Having to chose a winner I went with my gut, and that led me to Sain Bol. This place is the best bang for your buck. You get a great meal, they support local farmers and I even get refills on my chai latte which helps keeps the bill from climbing. It meets my needs for being local and organic. They also use lactose free items and avoid allergens so you can get gluten free options on some dishes as well, and most importantly they get creative with brunch. The special creation dish is also fun as it gets you a sample of their main dishes so you can have a little of everything.
No Comments »
RSS feed for comments on this post. TrackBack URL
---