Vallier – A New look in the Old Port
The 411
A few days ago a friend of mine fowareded me some info about an Old Port resto that began offering brunch. Now, as some of you may know, I have a weak spot for restaurants in the Old Port. I think the neighbourhood is nice and I feel that they take a bistro approach to brunch which is often quite tasty and almost always a feast for the eyes. For some reason I have a craving for presentation as well as food. Also, I wanted to be one of the first to review a new place. So, it was settled and one Sunday afternoon we made a trip to Old Montreal and checked out a new place – Will it rock out or will it be a dud, who knows? Well, technically you will if you read a little lower but work with me on this one.
At 1st glance
When you walk into Le Vallier you will see a lovely interior with a nice mix of wood and large windows on the south side soaking up the room with welcoming sunlight. For those who want even more sun they can try the terrace outside and for those who are too hungover from the night before and don't deal too well with direct sunlight there's a back area that's nice and dark. The decor is nice they have a nice large bar on the north side with an old school typewriter up front. There's seating set up in the middle with leather low banquet style benches and wooden chairs all along.
Food
Now, I should note that this was the opening weekend of Le Vallier so I do expect the menu to change in terms of the items as well as ingredients and portion size. That being said, it does need to be reviewed although if you go there 2 months from now and it changed don't blame me – my crystal ball doesn't work on menus.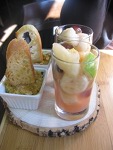 The menu has only a few options and the culinary style is definitely bistro so don't expect to find the classic bacon and eggs, although do expect to find home cretons, quiche Lorraine, apricot scones, and salmon egg casserole. They have a variety of interesting items such as smoked salmon or pancetta egg caserole dishes ($13.50), Omellete with choice of 3 fillings ($12.50) ranging from ham, cheddar, onion confit, asparagus and mushroom (or add an extra ingredient for $1). The quiche Lorraine ($12.50) comes with white balsamic dressing and mesclun salad, there's also a breakfast burger ($12.50) served on brioche bread with maple cured ham, a poached egg and onion confit. There is also a sweet section that is much smaller which includes dishes such as yogourt and muesli with fresh fruit ($10.00) and comes drizzled with raspberry sauce, two appricot scones with dulce de leche ($8.50), French toast with fruit and ice cream on the side ($8.50) and mini croisdant baskets of two sizes; 2 for $4.00 and 4 for $6.00.
While I often like to try out a sweet and a salty dish ,this time the egg caserole caught both of our eyes. If you have never had one, its not a dish you will find at many places. It is basically eggs oven baked in a deep dish filled with either meat, fish, vegetables and sometimes all of the above. It is definitely a hearty and filling meal and it called to use from the menu. I had the smoked salmon one and my friend went for the pancetta one.
The two egg pancetta came as an egg caserole with bits of pancetta, a healthy portion of cubed potatoes , argan oil, mushrooms, onions and cheri. The taste of this dish really delivered as the pancetta was in broken up small bits and the complimentary ingredients gave the dish a wonderful and unique taste I have never tasted before. I believe this was flavored with tarragon which could account for the delicious taste. The next dish on the block was a smoked salmon two egg caserole ($13.50) comprised of nice thick pieces of smoked salmon, onion confit, cheri, chives and parmesan cheese. The smoked salmon was oven baked and normally I'm not a fan of that cooking style but this is the only plate where I enjoyed it done this way. The asparagus was a nice touch and the dish was very hearty (a big hit with this hungry eater). All the dishes came with a plate of potatoes which were perfectly prepared and made into tiny delicious cubes and whatever they spiced it with are the perfect potato ingredients. The plate also came with homemade cretons and a fruit cup. The cretons tasted quite different from what I am normally used to probably because I have had bad cretons but the cretons tasted very fresh and each bite was packed with taste; the fruit cup was a nice addition and was wonderfully presented, in fact, I prefer this to the normal fruit side which tends to be limited in size. At least this way you get more fruit.
Service
The service was very prompt and they did a good job of explaining the menu and trust me, when its bistro style you need explanation. I'm bilingual and sometimes the cooking terms they use to describe some dishes is flat out vague. They did check up on us frequently and did refill my water frequently. The only criticism I have in this department is that two different waitresses approached us multiple times when we were still looking at the menu making us feel a bit rushed to order our food (even though the place had not filled up yet)
Vegetarian
Bistro style menu doesn't often have vegetarian dishes and don't even think of vegan and an extensive health menu item. Although, Les Valliers does have some vegetarian options and much more than one would expect. The sweet menu has all four items without meat and the yogourt and muesli plate is a healthy option (and well priced at $10) , the two egg plates have meat or fish in them as does the breakfast burger. The quiche is vegetarian and the omelette can be depending on your filling.
Wrap up
I enjoyed this place and feel it is a nice addition to the Old Port Brunch scene. The food offerings are different and do cover some of the necessary brunch classics. The sweet menu is a good deal with well priced items although the normal classic brunch menu can be $2 more than it should be but, then again all restaurants in this area are $2 more expensive in general. On the plus side you do get nice presentation and original ingredients. I should note that the washrooms are in a weird spot where you actually have to leave the restaurant via this door into the adjacent building, go down a corridor and then find their washrooms which look like private washrooms but are not. The washrooms do not have the similar look as the restaurant and although are clean they are not in keeping with the very nice interior of the restaurant.
425 rue McGill
Montréal, QC H2Y 2H1
(514) 842-2905

Saturday – Sunday 11:00 a.m.- 5:00 p.m.

MAP

View Vallier Restaurant Licencié in a larger map
| | |
| --- | --- |
| Bottomless Cup Of Coffee | NO |
| Credit Cards | YES |
| Web Site | YES |
| Debit Card | YES |
| Kid Menu | NO |
| Vegetarian Friendly | YES |
| | | |
| --- | --- | --- |
| Price | $$-$$$ | <$15 |
| Overall | | 3.5/5 |
| Wheelchair Access | NO | 0/3 |
| Parking | street & Parking meter | Moderate Difficulty |
| BUS | | Get Directions |
| Metro | | 6 minutes |
1 Comment »
RSS feed for comments on this post. TrackBack URL
---