With Valentine's Day around the corner, love is in the air and people start being a little extra romantic. Face it, you're mid February, the summer is still far away and to be honest, if you forget this day the weather is not the only thing that will be frigid. I always get a few people asking me questions about where to go that would make for a nice little romantic outing. To be honest, finding a spot to start your day on a Tuesday morning is not that easy to find but there are people who will want to start the romance from the weekend so, this can be of help to you.
Here are a couple places that come to mind where you can get a good brunch and a nice décor to go along with it. Keep in mind you may have something particular in mind regarding the type of food served, the décor, the vibe etc., so click on the link and the actual post will give you an idea of what it is like. Some reviews are older and the menu & policies may have changed so you may want to call in advance. In the words of one of my dearest friends: "you better not screw this up".
One of the first spots that comes to my mind is Birks Café. If you're not familiar with it, you can find it on the 2nd floor of Birk's Jewelers where you can get a multi-course brunch for $39.50/per person. You also get unlimited mimosas (NO LONGER BEING OFFERED), an amazing and unique décor, impeccable white glove service along with an impressive menu. Reservations are possible and you almost need to do them or else you will have to do the walk of shame down the stairs past the jewelry. I should note that you need to walk past some serious bling to get in and out of the dining area so if you are ready to go ring shopping this is perfect! However, if you want to avoid that topic then be prepared or look at another option. But as Beyonce would say: "put a ring on it".
Next, is a new spot in the old port called Communion that comes with limited seating dining area (there's a back room with 50 capacity but it's separated). Reservations are strongly suggested here since it tends to fill up quickly and others also reserve. The interior is beautiful with glossy tiles on the sides, a nice bar in the middle with that classic old port wood beams on the ceiling and nice lighting. Not to mention you are in the Old Port just minutes from some spas and one of the most romantic areas in the city so you can plan something for after brunch as well. What makes Communion an interesting option is that they have a sharing menu which can cost anywhere from $16-$19. You get to choose from a list of 3 themed menus which give you a variety of items. This is a fun activity unless you both have wildly different culinary preferences and this will likely cause a fight.
Café Melies is a visually stunning marriage of glass and metal with a modern influence and a very good menu. The dishes taste as good as they look. The capacity is quite large and I still remember their pancakes as well as the French toast. Here you will find good classic brunch menu items with a modern twist to them. The price range is also in the $12-$15 budget with an item or two a few dollars more but it's a safe bet and you can also reserve although, I don't recall it being necessary since it's quite large.
This next really funky spot has an incredibly romantic concept. I guess it's more of a room, rather
than a place. Now, get your mind out of the gutter because I'm not talking about whips and chains here. I'm talking about Cabotins. This red glitter wallpapered room is closed and private. In fact, your food is delivered to you by a small trap door (kind of like those they slide to you in prison). I honestly have no clue how to book this room. I would suspect you call them and book it, but you will have to find out. I also have not been here since 2010 and I did drive by it a while ago and it looked the same. Be prepared to get a really interesting décor and some tasty food. Even if you can't get the room, the place itself is quirky and unique and I mean that in a good way. The little random aspects are genuine and fun (none of the cookie cutter hipster-esque trying-too-hard-to-be-indie spots you see around town).
There is also Pyrus which has a lovely décor and is well lit. It has a delectable menu with items like the 3 french toast sampling plate, which makes me happy every time. This place has been a safe bet and everyone I tell about it has always told me how pleased they are. It's nice yet not stuck up even though they place looks really upscale on the inside. Also, it's located on Laurier which is a nice neighbourhood and you can go around to some of the nearby shops and make it a fun afternoon.
Now, if you want to surprise that special someone here are two of my favourite spots as of recently that make me happy and full every time I go: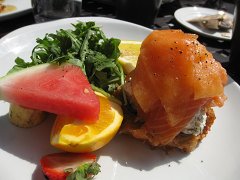 In NDG, you will find a gem of a spot called Vino. It has a good seating capacity and is still kind of hidden and off of people's radars. The menu never fails to impress me. With their ricotta pancake that is out of this world and they even have gluten free dishes which is a testament to the attention to detail they have. The food is fun, the staff is nice and friendly and you can tell they love food; there is a special kind of vibe that you can feel when you go there. You will likely not find it jammed packed since few people know about it and you will surprise that special someone even if they have been to a bunch of brunch spots. Unless, of course, they have read and tried all my reviews, then are you sure you're not dating me? If you are, please let me know and refer to paragraph 2 and 3's lines (especially the Beyonce comment).
Lastly, Sain Bol, my other most favourite spot. This tiny little spot is magic! You need to show up at the right time and hope a spot is available and thankfully, every time I have gone, there has been but there is room for maybe 15 people max. The menu is market, fresh organic, and you can see the Chef Frederic Houtin work his magic. Saying they do things different here would be an understatement right down to the fact they use chai with almond milk instead of coffee as their included hot beverage. The menu changes from time to time depending what is in season and the dishes are masterpieces from both a visual and culinary aspect. You can also get a sampling menu if you ask and although I never remember the price, it's worth it and makes for that magical moment.
So, in sum, chose wisely for Valentine's day and if you want this day to work out smoothly, remember what we have learned earlier:
A) Do not screw this up
B) Put a ring on it
1 Comment »
RSS feed for comments on this post. TrackBack URL
---