Montée de Lait – Refined brunch experience
The 411
Once upon a time I promised one of my good friends that when she came back from her 5 month European excursion we would go to this place called Bouchonné. Well, 5 months turned to 6 then to 8 then to 10 and we finally got a chance to go for brunch only to find that it had closed down. We decided to check out Montée de Lait instead sinceI had heard good stuff about their lunch and dinner service. You may be confused when looking at the map since Bouchonné used to be on 5171 boul Saint-Laurent and Montée de Lait was on 1424 Bishop but Montée de Lait moved a few months ago, and all the Google maps and various site listings are presently messed up. So, now that we have this mini mystery straightened out we can focus on solving the mystery of how the food will stack up and see if this place is worthy of all the foodie praise it has been getting as of recently.
At 1st glance
Montée de Lait is a cozy little spot with around a 50 seat capacity and a need for reservations. We were lucky that we got one of the last spots because we called that morning. In fact, there was some baby shower that was using up 70% of the capacity. The place has a cool décor with wine bottles on the side wall behind glass, banquet seats on one side and chairs on the other side. The banquette section is red and the back half, as well as the ceiling, is blue. The menu is posted on chalk boards around the walls and you can see into the kitchen at the end of the dining hall. This place has also lovely large wooden slats on the floor which, although are such a nice touch, can make for a lopsided table.
Food
The menu is located on the chalk board at the end of the dining room near the kitchen and it changes day to day. You can expect a bistro/fancy kind of menu which may be a little more lunch than classic breakfast. When we went they offered: Melon juice ($3.50); French toast ($12.00) with creamy lemon jam and mirabelles in vanilla; Bagel ($13.00) with Salmon, Egg, mayo, tomato salad and zucchini; Yukon gold pancakes ($14.00) with braised veal, pear sauce and onions; brownie ($7.00) with ice cream, sour cream and strawberry caramel; and
a blueberry and sherington fruit crumble ($7.00). Coffee was not included and cost $4 for a latte and $3 for an allongé. Keep in mind that this menu will likely not be there when you go since it changes so often. In fact, I swung by the day after and the menu was totally different. So, I hope I can give you an idea of what we experienced and maybe it can be helpful to you. My theory always is that they should treat every meal as if it was their most important and in quality places you can tell that.
The good thing with a small menu is that you can sample most of it and feel like you ate all they had to offer. The bad thing with a small menu is that if you do not like one or two items, you are out of luck. To be honest, we were a little concerned especially since my friend was very hungry and the options seemed a touch on the lunch side but we put our prejudice aside and ordered up some food. We both started with the melon juice ($3.50) which also changes everyday and it's not watermelon,
it's an orange melon which is different. It was served with a dollop of sour cream inside which was also quite interesting. My friend and I had different views on it and by different, I mean, she liked it and I didn't. I felt that it wasn't sweet enough and the sour cream did not do much for me even after having it unmixed and mixed. My friend loved it though and she is a more demanding foodie than I am, so I will let you be the judge but for $3.50 it's a nice little experiment.
Even before we got to our main course we got a free entrée of a ham on a sauce with some greens on top. The ham had a gelatinous green part on the top and came with bread on the side. It was a nice feature and the sauce was quite nice. We did not expect it and it was a nice, light way to start our meal.
My friend ordered the Yukon gold pancakes ($14.00) with egg, braised veal, pear sauce, salad and onions. I was curious on how a potatoe pancake would translate to a morning dish and this dish did a great job. You get your base of pancake with the meat surrounded by the pear sauce topped with an egg and salad. The pear sauce was not overly sweet which worked well with this dish since you get a nice taste of the veal complimented by the potato pancake and onions. The dish was spectacular, scoring points in every possible way from presentation to taste. Also, as an extra bonus, this dish was very filling, so much so that my hungry friend was 100% satisfied after this dish.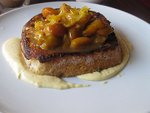 I ordered the French Toast ($12.00) and the slices were extremely thick and topped with mirabelles (mirabelles are a kind of plum in case you were curious). The lemon sauce on the side was delectable and I made sure to finish it all off. The French toast had a very nice consistency: not too tough, yet not mushy. The fruit topping and jam added a touch of freshness as well as a natural sweetness that coupled with the lemony sauce on the side and made for a perfect dish. This dish really delivered in the taste and filling-ness department; I was full when I finished and usually it's rare to find a place that offers you a well prepared and fancy dish that makes you full. Congratulations on a job well done.
Lastly came the Blueberry and Sherington fruit crumble ($7.00) which we kind of indulged on as a dessert dish. My friend had their brownie dessert a while ago and said it was very good so all that was left was to test their crumble. It came prepared in this
nice bowl with loads of fruit and crumble. The outside of the bowl was nice and hot but the inside was not which was interesting. We joked that it had just come from being washed. The fruits were tasty and very generous and the crumble was not too dry, which is often the case with restaurants. I liked it, and for $7.00 it's a nice little dessert and it felt well worth splurging on the wallet as well as the belt.
Service
I think we had a new waiter since he seemed somewhat unfamiliar with the menu and when we asked some questions on the food he did not really give us a detailed answer. There was a head waiter or manager that also came by and he was nice, efficient, speedy, very pleasant, and more familiar with the menu.
Vegetarian
The menu is limited and changes often so you will likely find at least one vegetarian dish but do not expect lots of options or anything vegan.
Wrap up
We were pleasantly surprised by how filling the dishes were. The presentation and taste were truly impressive and well worth all the foodie buzz. The dishes were fresh, tasty, and as nice to look at as they were to eat. I like the fact the menu changes; although, with only a few items you will not have the choice of a pancake stack or loads of bacon. Having come here more than once you may end up with some days where the menu is more "lunchy" than brunch, but keep an open mind and you will love it. Prices for main dishes were fair considering the quality you get is all first rate. Coffee is not included so if you were like us then almost 50% of your bill will be in beverages. This place is good for the brunch foodies who crave a culinary adventure.
5171 Saint-Laurent St.
Montreal Qc, H3G 2E6
(514) 273-8846

Saturday-Saturday 11:00am – 2:30pm
MAP

View La Montee de Lait in a larger map
| | |
| --- | --- |
| Bottomless Cup Of Coffee | NO |
| Credit Cards | YES |
| Web Site | YES |
| Debit Card | YES |
| Kid Menu | NO |
| Vegetarian Friendly | YES |
| | | |
| --- | --- | --- |
| Price | $$$ | $15 |
| Overall | | 4.5/5 |
| Wheelchair Access | NO | 0/3 |
| Parking | Parking Meter & Street | Medium |
| BUS | | |
| Metro | | 9 minutes |
5 Comments »
RSS feed for comments on this post. TrackBack URL
---