Eating healthy can sometimes be a complicated headache inducing mess, with so many options, ingredients, cooking styles, allergies, and views on what is deemed healthy, we often get lost in what healthy really is. Most recently the emphasis has focused on local, organic and responsible food. Supporting local farms, sourcing organic food produce and making responsible choices in what items used has many people talking and looking for places that do this. Many Montreal restaurants are doing this in some part with sourcing local produce, focusing on organic produce instead of some that may be genetically modified and even going as far as using certain fish so as to not contribute to overfishing. Food has an ethical component and having grown up in a family that focused on organic and healthy, this is something that is always in the back of my mind every time I take a bite. The tricky part is finding a spot that sources local organic food items and encourages eco responsibility. You have to go with word of mouth since there is no overarching organization that clearly hands out certification and you can do your research and see if the place you are eating at meets your criteria.
Everything we have read about la Recolte shows a focus on local, organic and eco responsible. They really take the whole local/responsible mantra to heart. Almost 90% of what they use is from local farms. They prefer developing relationships with local farmers so they know exactly where the food comes from and how it is grown. In winter, they rely off of stores of food made during the summer and fall seasons and get creative. From outside, La Recolte is an unassuming restaurant. In fact they don't really advertise the depths of their eco responsibility. You either know through word of mouth of by asking them.
Food The menu changes based on seasonal items, so you will see a constantly evolving menu. Prices on average are in the $17-$20 range. An Americano coffee is $2.80 extra and there is no drip and no refills. Modifications can be done, they were even able to provide a gluten free modification on a dish to accommodate my gluten intolerant friend.
Bureka $17
Meatballs $18
Acras $18
Eggs Benedict $19
Grilled Cheese $16
Korean Crepes $17
Smoked trout blintzes $18
mushroom tart $20
The Bureka $17 is an interesting dish of puff pastry filled with spinach, pepper, potatoes, cheese and a side of salad and egg. Burekas are something you will not find often on a brunch menu. Their origins are from the Ottoman Empire and can be found in the Middle East as well. This dish is flaky and loaded with spinach. It is filling and a joy to find on a menu. The eggs is a nice touch that add a little breakfast element to the dish. The salad on the side is well done especially since other places make a salad an unnecessary add-on.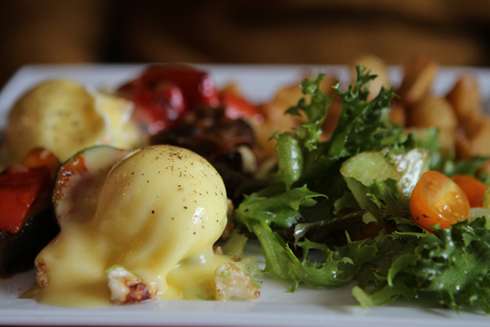 The eggs benedict $19 comes with bacon, cauliflower, haloumi cheese, salad and potatoes. We subbed the bread base in this dish for vegetables in order make it gluten free. This dish is masterfully done. The cauliflower and haloumi are creative ingredients. The potatoes make this dish extra filling though to be honest, it's filling without it. This dish is a wonderfully done eggs benedict and a treat.
The smoked trout blintzes $18 come with a as either buckwheat or zucchini, celery puree and an egg. The dish is a tapestry of complimentary flavours working together to deliver a pronounced taste. The smoked trout is fresh, the dish visually appealing and the puree adds a nice little extra fun for your tastebuds.
The Korean style crepe $17 is a fun dish and a filling one as well. Filled with seafood, cabbage, carrots, coriander, eggs and spicy mayo, this dish actually reminded me of various dishes I had when visiting Seoul, Korea. The seafood is ample in quantity and taste and the spicy mayo adds some fun to the dish. The dish is generous in its size and is a good choice if you are hungry.
The mushroom tart $20 is loaded with mushrooms, tomatoes, arugula and eggs. This dish had some flaky layers, yet was not too difficult to eat. It did not look at all as what I was expecting which made for a pleasant surprise. I was full after the dish and it's nice to have a carb based item on the menu that helps fill you up. The size is large and I was fully satisfied after finishing it up.
Service Staff is very attentive and checked up on us. We felt like we were at someone's home. They really went out of their way to come up with gluten free options, they explained the menu in detail, answered all of our questions and event chit chatted at the end.
Vegetarian There are loads of vegetarian options here, you may be able to have a dish made vegan if you want, gluten free options/modifications on the menu is also nice to see.
Wrap up Few people are doing what la Recolte is doing here. Many say farm fresh local, but few get it as close to 100% as la Recolte does. Once you look at all aspects of the menu you will see how difficult this is. I love the fact that because they rely on local in season produce this forces them to have an evolving menu. This makes every trip here an adventure and you never get the same old boring items.
| | |
| --- | --- |
| Bottomless Cup Of Coffee | NO |
| Credit Cards | NO |
| Web Site | YES |
| Debit Card | YES |
| Kid Menu | NO |
| Vegetarian Friendly | YES |
Price
$$$$$
$17-$20
Overall
4/5
Wheelchair Access
NO
0/3
Parking

Parking Meter & Street

Medium

BUS
Metro

5 minutes
1 Comment »
RSS feed for comments on this post. TrackBack URL
---