Cardinal tea room is a newcomer to the scene. Connected to Sparrow, which has been serving brunch for a few years now, this 2 floor old-style gem has that laid back feel with ample natural lighting and a more relaxed ambiance for brunching. Cardinal tea room has that British imperial style to it and, nothing says England like tea and cookies. The interior has two lovely floors flooded with natural light, bookshelves, a piano, a chalkboard, a steamer trunk and all those old style items that really make for quite the experience.
There are two ways to get into Cardinal Tea room. The first is from the St Laurent street entrance – just look for the big red door. The other is inside the Sparrow and going up that staircase that has always been closed off. For years I always wondered where it went to (other than an ATM machine). I use to call it a stairway to heaven, but now it actually goes somewhere useful – to your own little piece of heaven.
Food The menu is broken down into salty and sweet. As expected there is a wide assortment of tea and even some coffee; although, since this is a tea room, I opted for tea even though I love my morning coffee. The menu breakdown goes a little something like this:
Sausage pastry: 3 for $5
Cheddar and bacon muffin: $4
Salad: $5
Ploughman's plate: $14
Quiche and Salad: $9.50
Cucumber sandwich: $5.50
Ham and mustard sandwich: $5.50
cheese and pickle sandwich: $5.50
Watercress sandwich: $5.50
We started off with blueberry scones ($4.00) which are made on site. This is a big plus since I always have trouble finding good fresh scones. Scones are tricky: I like them tasty and fresh but a scone is, by nature, supposed to be a little dry. I find some places have them dry like sand but this was not the case at Cardinal Tea Room. The scones had the proper dryness yet there was just that little bit of moistness that made it a joy to eat. The blueberries also added a nice extra bit of yumminess.
The sausage and bacon muffin ($4) had a nice doughy texture that worked well with a fair amount of meat. This dish, much like the scone, if more of a snack and not a full meal so you would have this with something else unless you came in for a snack and tea.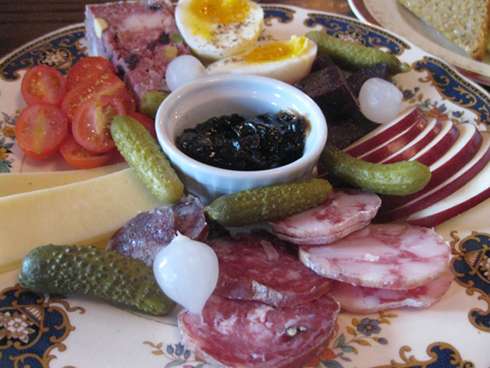 The one dish most of us gravitated to was the ploughman's plate ($14). This is a meat focused dish with loads of cured meat, pâté, pickles, choice of bread, eggs, tomatoes, and cheese. This dish is similar of a more Eastern European breakfast and parts of the British Empire may have this dish . This dish is filling. In fact, out of the whole menu, it is the single items that will fill someone who is moderately hungry as the other dishes are smaller.
Service The staff here is attentive and helpful. They didn't rush us yet they were around when we needed them.
Vegetarian
There are some sandwiches on the menu and some pastries that are vegetarian friendly so you can be quite safe avoiding meat here.
Wrap up The décor and ambiance are incredible. The idea of relaxing over tea and pastry is a nice way to spend a part of the day. I did find that the menu is much more geared to snacking than it would be a normal brunch. So, if you are moderately hungry you can only have the ploughman's plate and add some stuff to it, which makes your bill climb. Even the sandwiches weren't that enormous so don't bring a big appetite.
5326 Boulevard Saint-Laurent
Montreal Qc,
H4C 2R9
(514) 903-2877
Friday-Sunday 11:00-19:00
MAP

View Cardinal Tea Room in a larger map
| | |
| --- | --- |
| Bottomless Cup Of Coffee | NO |
| Credit Cards | YES |
| Web Site | NO |
| Debit Card | YES |
| Kid Menu | NO |
| Vegetarian Friendly | YES |
| | | |
| --- | --- | --- |
| Price | $$-$$$$ | $10-$20 |
| Overall | | 3.5/5 |
| Wheelchair Access | NO | 0/3 |
| Parking | Parking Meter & Street | Medium |
| BUS | | |
| Metro | | 11 minutes |
No Comments »
RSS feed for comments on this post. TrackBack URL
---