Benedicts – An NDG Brunch Champion
The 411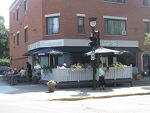 In following with an attempt to give more geographically balanced brunch reviews across Montreal, I returned to NDG with a mission, to review one of the most talked about places in the western end of the Island and seeing if this NDG sensation can compare to some of the better breakfast and brunch places Montreal has to offer. Benedict's has some good feedback both online and from people who live in the area and a while ago when I was passing through NDG I was in this area and was curious by what I saw. A visit was definitely in order..
At 1st glance
Benedicts is situated on a part of Monkland village but on the western end that is much more residential and away from all the shops and restaurants. This is a nice thing since you can retreat from the busy part of the street to enjoy your meal and also allows you to find ample parking space while, all at the same time still being able to walk into the busy section just a few minutes away. When you walk up to Benedict's you will notice a nice terrace on the front left hand side that can sit a decent amount of people and a very nice spacious interior will lots of seating. There are also some picnic tables on the side of building. There is a wheelchair accessible washroom, which is great although the front entrance is difficult to access since it is not on a ramp, but rather a few stone steps and the side entrance was obstructed by a large pot which could be moved to allow a wheelchair to pass by.
Food
With Breakfast/Brunch options available every morning, you don't have to wait until the weekend to get your hands on some tasty eats. The menu is fairly large and covers all the main morning staples. Most plates are in the $8-$12 range and come with complimentary coffee. There are over 12 omelette choices priced between $7.99 and $11.99 and for an extra $1.29, your meal can be done with egg whites for the health conscious ones out there. I should note that there is a $2.00 sharing fee, which actually applies to other dishes as well. There's a pancake section with 7 choices from $7.99- $10.99 and a crepe section with 12 choices ($7.99-1$2.99); waffles and French toast have 6 options ($7.99- $10.99) and the French toast is Challah bread which makes for a great French toast. There's an eggs Benedict section with 6 choices ($10.99-$12.99) and for an extra $0.99 you can sub the English muffin for a large bagel which is actually pretty cool since some people like a bagel in their eggs Benedicts. They also have a low fat yogurt section with 5 options ($7.29-$8.99).
We got to order a bunch of varied dishes starting with the Benedicts special crepe ($12.99) which is a monumental crepe spanning the full diameter of the plate and is filled with sausage, ham, bacon, scrambled eggs, Swiss cheese and covered with their homemade hollandaise sauce. The hollandaise sauce was fresh and tasty. In fact, I would go as far as saying it was one of the best hollandaise sauces I have tasted in the city. The plate was very filling and was generously stuffed. It also came with a side of potatoes which were quite tasty. This was actually the standout in what we had ordered and if you find yourself here and are hungry, this dish will not do you wrong.
Next came the omelette ($8.99) which was made with breakfast sausage and choice of Swiss or cheddar cheese. The cheese and sausage offerings were quite generous and the omelette was not one of those tiny little things some places try to pass as substantial but rather, it was an omelette you could sink your teeth into and walk away nice and full, while at the same time being fluffy and not too greasy.
Thirdly, came the Smoked Salmon eggs Benedict ($12.99). Let me note that with a place named Benedicts, you cannot pass up on trying out one of their eggs Benedict options. I mean, the place is named after this dish so by virtue, it should be their specialty. After the first bite I realized that they did it proud; the hollandaise sauce was spectacular, the portion of smoked salmon was generous and the English muffin was just perfect and did not fall apart from all the toppings. It also came with a side of home cut potatoes which were very good and two pieces of fruit. Although the fruit was tasty and fresh it was only two slices and I would have liked a little more fruit on my plate.However, the important part of my dish was bang on perfect, so I can excuse that.
Lastly, came the one egg dish with choice of bacon, ham, or sausage ($5.99). The price was fair for this dish was adequate.The sausage was tasty as well as the egg was properly prepared. This too came with two pieces of fruit and home cut potatoes.
Service
Service was very good and our waitress was very quick and explained some dishes. Our bills also came very quickly and we did not have to chase her down. Not to mention our coffee and water refills were very frequent.
Vegetarian
Many of the dishes did not come with meat and there is lots of options on the menu. As for vegan I could not really find anything since the vegetarian stuff has either eggs or dairy in them.
Wrap up
I really liked Benedicts: the prices are fair, the plates are full and the portions are large. This is definitely a place that you should check out if you haven't had a chance yet. Even if you don't live in the west end, Benedicts will be worth the trip. They even take reservations so if you have a larger group you shouldn't have a probably fitting in here.
5950 avenue De Monkland
Montreal Qc H4A 1G8
(514) 481-6075

Mon-Fri 6:30-16:00
Sat-Sun 8:00-16:00
MAP

View Benedicts Restaurant Bar in a larger map
| | |
| --- | --- |
| Bottomless Cup Of Coffee | YES |
| Credit Cards | YES |
| Web Site | YES |
| Debit Card | YES |
| Kid Menu | YES |
| Vegetarian Friendly | YES |
Price
$$
$10-12
Overall
4.5/5
Wheelchair Access
1/3
Parking

Street

Easy

BUS
Metro

5 minutes
1 Comment »
RSS feed for comments on this post. TrackBack URL
---