Au P'Tit Cochon Santé – Well worth the trip to the North end
The 411
As you know, distance is not an issue for us here at Montreal Breakfast Review. If there is even the slightest rumour of a place off the island that is serving up an exceptional brunch we will investigate. Normally, we tend to go west, sometimes up in Laval and even the south shore. This time we heard of something in Rosemère. Rosemère is the most Northern spot we have done yet, and we technically got lost there thanks to a certain online mapping instruction that shall remain nameless. Seriously??? 6 minutes from the exit? And there IS a difference between slight left and a normal left but no need to dwell on direction issues, we came here to eat..
At 1st glance
When we got here (15 minutes late), we saw a small line-up forming on the inside. Thankfully our friends got a table for us all and we did not have to wait. The line shrank in 15 minutes and came back later only to shrink again. So, if you are unlucky you may wait a little but nothing too long. You can take solace in knowing that there is free parking in the form of an ample parking lot in the rear, which in fact is where the entrance is situated. The interior is really nice and has a really well lit area in the back (which is technically the front of the building) near the terrace. They have artwork of local artists on the wall which works quite nicely with the décor and if you really like it, you can buy it.
Food
The menu is pretty varied with a healthy undertone. While it is generally vegetarian friendly, it has some meat based items as well. The presentation, taste and portion size is something that stands out on all the dishes that we ordered. They took a nice approach to most classic brunch items, making them healthy and hearty. Most dishes tend to be in the 12$ plus range and coffee is $1.75 with free refills. The price is more than you would pay downtown but the freshness, creativity and taste make it worth every penny. The menu has some interesting items like ricotta pancakes and porridge to name a few. To get a better feeling of the menu, let's take a look at it in more detail:
11 health items: $3-$13
3 kids menu items: $5.25
7 egg dishes: $11.50-$15.75 (2$ less if you chose to go for a smaller side portion)
5 crepes: (buckwheat or Ricotta)
2 buckwheat pancake: $10.75-$12.95
3 French toast: $10.50-$12.50
2 breakfast paninis: $11-$11.50
6 lunch items: (as of 11:00) $11.95-$14.50
With a group of 5 people, we got a change to sample some varied dishes. My friend began with a very healthy option of a Cottage Cheese Fruit Salad and Nut mix with Caramelized Oats ($11.75). This dish looked spectacular, was very healthy and tasted amazing. I wish more places would try to do a dish like this; it is so refreshing to see a restaurant serve a healthy menu item that not only tasted good but looks appealing as well. The nuts were tasty, the fruit was fresh and the cottage cheese was healthy and yummy.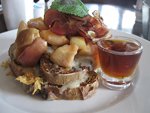 I ordered the French Toast and Nut Bread ($12.50) which came with 3 nut bread slices topped with pancetta, aged cheddar, warm apples and accompanied by a shooter of maple syrup which was a great touch. This dish did not have any sides but it was topped with a mint leaf and although I did not eat, I think made for a nice effect. The nut bread was a novel and delicious approach to French toast. You do not really notice the eggy-ness of the French toast since the nut bread does not really absorb it but the combo of warm apples and aged cheddar is pure brilliant. I love the fact it came with 3 slices. This dish did an amazing job and smelled, looked and tasted great.
My friend ended up having the tomato confit, spinach, and feta omelette ($11.75) which came with a fruit side and potatoes. The tomatoes were tasty they were kind of a mix between sundried and fresh and did not have any acidic after taste. The potatoes were round cuts and not fried. The fruit was VERY fresh and mixed with the potatoes which made for a nice presentation. The price was $11.75 but you can opt for smaller side portion size and chop off 2$. The size was fair but I did see much larger omelettes that others had ordered.
The Ham, Tomato, Cheese, Baby Spinach Sandwich ($11) came with potatoes which I did not get a chance to sample, unfortunately, but it looked like a nice dish.
The last dish was the "pièce de résistance", a dish I saw being served up in almost a quarter of the orders coming out of the kitchen. The Brioche French toast ($11.25) looked absolutely amazing. I think I may have even fell in love with it at first sight. It came with two really thick slices of brioche bread which was not too sweet but the fruit accompaniment on the side gave you that option for extra natural sweetness which is the best kind. This dish tasted amazing and hours later my mouth still waters. This dish was flat out perfect and worth every penny. If you love French toast and fruit or have a good appetite you must try out this dish. There is a reason why lots of people order this and it's because it's amazing. This is by far one of the best French toasts I have ever tried. This dish has the look, taste and portion size to make it superstar. Don't believe me? Try it out and see for yourself.
Service
Our waiter was decent as he was polite did an adequate job with the explanations. Our refills were very frequent, thankfully, and we were not rushed even though we finished and were just chatting for a good 30 minutes after our meal was done.
Vegetarian
The menu has lots of vegetarian friendly options as well a healthy options. In fact, there may even be some vegan options with some salad choices. Please note that the health menu section cannot be modified.
Wrap up
I was really happy to have been to Au P'tit Cochon Santé. This place made me forget that I got lost getting here. The food was great, the French toast was absolutely amazing and made the drive out to Rosemere worth every bit. I will be coming back here again. Be prepared to wait a couple minutes if you go during peak hours, but you won't regret it. I have been this excited about a place only a few times this year. The price may be two dollars more than what you are used to at a good place in the city but it is without a doubt worth it. I just wish coffee was included but hey, it's organic and has free refills so 2 out of 3 ain't bad. Oh yeah, remember it's in Rosemère, not in Boisbriand.
236 cote Grande
Rosemère, Qc,
J7A 1H4
(450) 971-4449

Mon-Fri 7:00am – 15:00pm
Sat-Sun 8:00am – 15:00pm
MAP

View Au P'Tit Cochon Santé in a larger map
| | |
| --- | --- |
| Bottomless Cup Of Coffee | YES |
| Credit Cards | YES |
| Web Site | NO |
| Debit Card | YES |
| Kid Menu | YES |
| Vegetarian Friendly | YES |
| | | |
| --- | --- | --- |
| Price | $$ | $12-$15 |
| Overall | | 4.5/5 |
| Wheelchair Access | NO | 0/3 |
| Parking | Parking Lot | Easy |
| BUS | N/A | |
| Metro | N/A | N/A |
3 Comments »
RSS feed for comments on this post. TrackBack URL
---