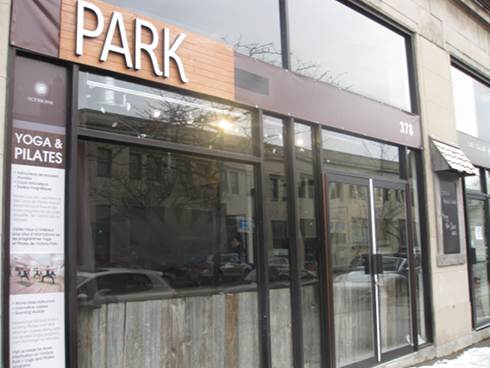 The 411 Sometimes plans change: you have a place you want to go for brunch and something happens and you can't go, leaving you to scramble to find something close by. Well this happened one Saturday. Our plans to do brunch in Westmount were derailed and with a time constraint as well as having to stay in the area, I was getting depressed. Then my friend told me that Park restaurant on Victoria avenue actually served brunch. If you don't know Park restaurant, it's becoming one of the most talked about restaurants in the city. Chef Antonio Park serves up a combination of Korean and Japanese inspired dishes with an emphasis on organic and sustainably farmed ingredients. I always kind of wished that they did brunch then my friend told me she just found out they did and we ran over.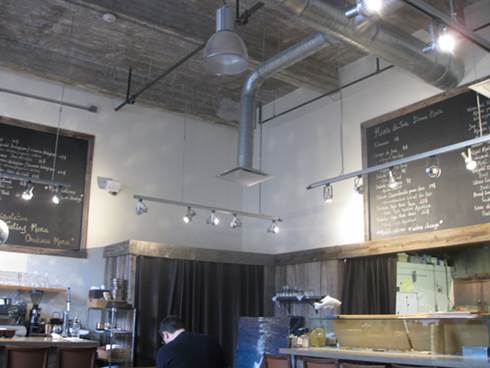 At 1st glance Park has a definite asian influence to it so seeing how they handle brunch would be intriguing and I'm always up for challenging interpretations on brunch. The culinary philosophy focusing on organic and sustainably farmed ingredients is also very interesting and makes for a wonderful treat. The interior of Park is not too large. There are large booth seats near the window, a bar area near the door and tables all around. Despite not needing reservations, I believe that given enough time and people discovering that Park now does brunch you will need to call ahead but until then, we walked in with no wait.
Food The menu was short with 7 items ranging from $7-$19. I should note that the 19 dollar dish is for 2 people. There are no coffee refills and no drip coffee so do budget for an extra $3.50 for a latte. Some items on the menu a little more on the lunch side of things like the Bibimap ($13) and Jap Chae ($13), as well as the miso soup but there are recognizable brunch dishes such as omelettes, the BLT and granola with yogourt. I should note that you don't have forks or knives on your table but chopsticks instead. This is kind of cool especially for brunch. I'm sure you can request a fork and, don't worry, they give you a spoon for the yogourt. I can see the menu getting tweaked and changed as time passes so this may be different when you go. The menu breakdown is as follows:
Miso Soup: $7
Granola and Yogourt: $8
BLT Kim Chee: $15
Bacon Omelette: $15
Bibimap: (multigrain, vegetables, egg and gachujang sauce) $13 (add $5 for chicken)
Jap Chae: (yam noodles, vegetables, sesame) $13 (add $5 for salmon)
Deconstructed salad for two: $19
We started with the Granola and yogourt ($8). This came as a natural yogourt on top of a base of granola topped with pieces of fruit in a martini glass. This dish may looks small but was actually perfect for sharing especially since the following dishes were very plentiful. The dish is visually stunning and you enjoy eating it. The yogourt is not sweet so the fruit adds the necessary sweetness, along with freshness.
The BLT Kim Chee ($15) is the most intriguing dish on the menu since it has Kim Chee in an omelette within the BLT. You get two sandwich halves that are a generous size, a good offering of small cubed potatoes drizzled with a tang, spicy mayonnaise and a shredded salad on the side. This dish is very filling and the bread used is an excellent chpice and does not leave loads of crumbs while still holding together everything inside. The Kim Chee is a brilliant addition and works well in this dish and although it does seem like an odd item to use in a brunch dish, it works very well.
My dish was the Bacon omelette ($15). I usually avoid omelettes because I'm never full but this one was filling and came with the same sides of shredded salad and potatoes. The omelette was topped with bacon and was stuffed with tomatoes and even kim chee which was a nice treat and every bite was delicious.
Service I was surprised by how good the service was. There was only a waiter and a hostess and there were a couple tables already full. It worked quickly efficiently and our dishes arrived shortly after we ordered and the waiter came to check up on us often. Our water glasses were always full.
Vegetarian There are some vegetarian options on the menub but there aren't any vegan options – wih 7 items you don't really have much wiggle room.
Wrap up I loved Park, and by loved I mean LOVED. I haven't been this excited in a while. The menu, albeit short, is fun and incredibly creative. The fact that they successfully paired kim chee and brunch is a feat in and of itself. I suggest you try it out before people catch on and lineups start to form.

View Park Restaurant in a larger map
| | |
| --- | --- |
| Bottomless Cup Of Coffee | NO |
| Credit Cards | YES |
| Web Site | YES |
| Debit Card | YES |
| Kid Menu | NO |
| Vegetarian Friendly | YES |
| | | |
| --- | --- | --- |
| Price | $$$$ | $15 |
| Overall | | 4.5/5 |
| Wheelchair Access | NO | 0/3 |
| Parking | Street, Lot, Meter | Medium |
| BUS | | |
| Metro | | 10 minutes |
No Comments »
RSS feed for comments on this post. TrackBack URL
---