Mothers day Brunch is around the corner, and if you are reading this you are trying to figure out where to go. Mother's day brunch is always tricky because you want the perfect spot and sometimes what you think is perfect may not be what your brother and sister may think is perfect. Do you look for a spot with a terrace? Do you do a brunch Buffet? Do you want a kid friendly spot? Or do you want somewhere fancy? The goal of his years Mother's day review is to give you the tools to choose the perfect spot since we all want to make Mom happy.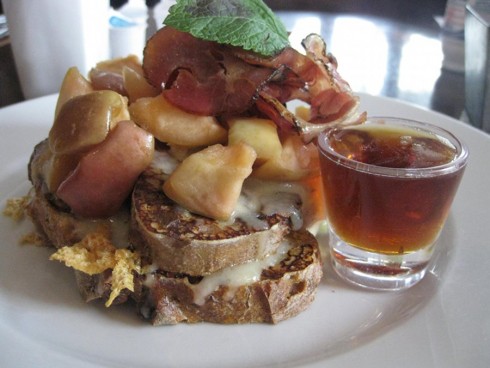 With almost 250 reviews done over the last 5 years here are some categories you may want to look at. If you want a list of places with the following just click on the link: terrace; all you can eat; Old port; fancy brunch. You can also listen to our radio interview on CJAD 800's Dinner Rush with Andrea Howick ,
Now, we wouldn't end this review after only 2 paragraphs would we now? So here are some spots we suggest. Some have a link to a review we already did while others we have not yet reviewed. We can offer a website link for the place as well as our review if we did it. Please note that some of these places fill up fast, and may already be full by the time you read this.
The main question is what do you want? First figure out what you really want from your day with mom. Is it a quiet personal brunch? Is it a large family affair? Does mom love all you can eat buffets, terraces, fancy places…? Once you have an idea the following sections will hopefully help you out.
Fun and Sun Mom
So with all this lovely weather we have been having, a nice brunch that takes advantage of the weather is a good idea. (Please call to see if the terraces are open since we cannot predict the weather)


Les Accords in the Old Port (212 Notre Dame West) has an outdoor terrace nestled between two buildings and an impressive menu. I sometimes have dreams of how nice it is there.
Crescendo (5150, boulevard LaSalle) is right by the water and although indoor has loads of sun and you can walk around and even take the ferry.
Rumi (5198 Rue Hutchison) is an ethnic themed brunch with a nice large terrace on Fairmount and right near Laurier. It's tucked away from all the hustle and bustle and you will almost never know you are in the city.
Zagrum (1825 rue Fleury East) has a nice terrace and some interesting dishes, a gem out on Fleury.
Prohibition (5674 Avenue de Monkland) out in NDG. Prohibition has long been on our list of places we keep coming back to. The terrace is amazing in the summer and the food always delivers.
Adventurous mom
Do you have a mom who is always up for adventure? New places? She's used to normal brunches? Well, consider some of these:
Sain Bol on (5095 Rue Fabre) is a tiny little spot that places an emphasis on fresh, local and organic. The menu is less than 5 items and you get chai, not coffee, and the vibe is very chill and one of a kind.
Su (5145 Wellington St) is a Turkish restaurant. Check out their Turkish take on brunch, odds are mom has never had this for brunch.
Foodie Mom
So Mom's a foodie and you didn't inherit that genetic ability. Don't worry, we're here to help.
Lawrence (5201 St Laurent Blvd)- the dishes here have always delivered a home run and the lineup helps to explain why it is so popular.
Maison Publique (4720 Rue Marquette) – renowned chef Derek Dammann and Jamie Oliver came together to bring you this impressive Gastro pub with considerable seating.
Pastaga (6389 St Laurent Blvd) is Martin Juneau's baby and has some unique dishes that will definitely impress mom.
Madre (2931 Rue Masson) is one of the restaurants of chef Mario Navarrete and he takes Latin fusion to a whole new level.
Sain Bol (5095 Rue Fabre) Yes, I know I mentioned it before but the food is here is that good and anyone who loves food will appreciate chef Frédéric Houtin's work.
Fancy mom
This mom like mimosas, white glove service and pretty much stuff you cannot find at most places in the city. Don't worry there are some places for you.
Birks Cafe (1240, Square Phillips) situated inside Birks Jewelry store shows that fancy is an understatement. You must call to book but you will be impressed by the food, décor, and service.
Lemeac (1045, avenue Laurier Ouest) is one of the few places in the city where you cease to be in Montreal but instead get transported to Paris. Dishes are exquisite and décor is beautiful.
Maison Bolud (1228 Sherbrooke St W) is situated inside the Ritz Carlton. Already there are few spots remaining last time I called but if you get it you can expect nothing short of perfection.
Café Melies (3540, St Laurent) has a breathtaking interior, proper service and plating.
Verses (100 Rue Saint Paul Ouest) has a $42 multi course menu with menu items including foie gras and lobster situated in the Old Port. It also adds a more quiet ambiance than the hustle and bustle of the downtown core.
Buffet Mom
This mom loves choice or she loves having tons of family around ranging from grandparents, aunts, uncles, to small children. This is likely one of the hardest things to choose. So here are a few spots we rounded up for you.
Suite 701 (701 Côte de la Place d'Armes)- $39 gets you a brunch buffet and choice of a main in a beautiful Old Port location, as well the Rain Spa is connected so you can give mom a surprise spa getaway while you take the kids around the Old Port.
Restaurant du Vieux Port (39 Rue Saint Paul Est) Adult $24.50; children under 10 – $12.25, is a good choice if you have kids and need a place that is not too cramped. They have a buffet so there's lots of choice and the prices are excellent.
Delta – tour de ville (777 University S) Adult $78; children $39 (free under 6) has an incredible spread of food and a one-of-a-kind view of the city from its rotating rooftop offering a 360 degree view of the city while seated.
Montrealais (900 Rene Levesque) Adults $62; children $31 (under 12 and free under 6) is situated in the Queen E and offers that mix of classic brunch with a loads of choice.
Beaver Club (900 Rene Levesque) Adults $72; children $36 (under 12 and free under 6) also sitatued in the Queen E although a little fancier with a different menu as well.
Le Chamertin (9 Place Frontenac) Adult $29.95; children $15.95 and free under 4. Situated in the West Island you get a buffet with choice of plate.
Sheraton (2440 Autoroute des Laurentides) Adult $49.99; children $25.99 has a buffet that almost never ends and ample parking up in Laval.
Porto Vino (multiple locations) Adult $33; children 12 and under $15 with multiple locations around the city you get a brunch buffet for a reasonable price and lots of options.
So there you go, loads of options to make Mom happy, I hope these help you in your search for the perfect spot, as always remember you can reach us on Twitter, Facebook, and by email.
No Comments »
RSS feed for comments on this post. TrackBack URL
---