Every year just as winter begins to ease up, the sap starts flowing and people begin heading out to get their maple fix at various cabane a sucres/sugar shacks outside of the city. Back in the day, the only way people would get their maple syrup addiction fed was to head out of town and hit up a sugar shack. Normally people would associate sugar shacks with very simple/traditional meals. The standard lineup at most sugar shacks include baked beans, eggs, mini sausages, potatoes, pork rinds, beets, and loads of maple syrup, in almost every dish. Pretty much basic dishes that haven't changed or evolved in years. Things started to change when Martin Picard's Pied de Cochon cabane a sucre made waves by taking these traditional dishes and making them fancy, combining them with modern dishes while keeping you full and having a steady supply of maple. They did such a good job that people started getting inspired and lots of places started looking at bringing this cabane a sucre experience into the city and having fun with these traditional dishes.
Montreal has a wide variety of maple themed meals and experiences; there is something for everyone. You can choose an urban cabane a sucres which brings the sugar shack out of Montreal experience to a metro ride away. Should you want something a little less communal and with more of a restaurant sit down experience, many restaurants have added maple to their menu, with options ranging from brunch to dinner.
Our goal is to complete a full resource list where you can have all the information you want to fill your local maple fix. We will be adding to this every time we find out about new ones. Here they are in alphabetical order:
Les 400 Coups (400 Rue Notre Dame) is a restaurant that many foodies love which had made some waves over the last while. This Old Port restaurant is on many peoples' must go to list. Les 400 Coups is offering a special 3 service menu during the month of March for $45 (additional $25 for alcohol pairing). This menu is only available on Tuesdays and Wednesdays. The menu contains liver pâté; piglet and artichoke with smoked apples; and a maple ice cream, sea buckthorn, hazelnut butter, crispy cocoa cake.
Chez Bouffe Café Bistro
(4316 Rue Sainte-Catherine East) has a traditional cabane a sucre menu that lasts until the end of march, it has a dinner service with a minimum of 2 people required and a price of $25 a person. The menu offers pea soup, pork belly, maple ham & foie gras, rabbit sausage, baked beans, scotch egg, maple taffee, beaver tail and cotton candy.

Deville Dinerbar (1425 Stanley, Montréal) has their diner shack going on until the end of March. Known for some really impressive dishes, don't miss out on the sugar shack extravaganza. Their business class lunch has all the traditional sugar shack favourites like baked beans, pork, split pea soup, and pancakes amongst others. While their dinner menu offers up sugar shack inspired risotto, lamb butternut squash gnocchi salad and others. This ends soon, so don't miss out.
Hotel Nelligan
(106 St-Paul Ouest) is an Old Port restaurant offering both a fixed menu at $32 and an a la carte option with a porchetta for 8-12 people (must be ordered in advance). The fixed menu offers all the classics, like pea soup, pork rinds, scrambled eggs, ham, sausage, baked beans, maple tafee, donuts and pie. The view alone on their rooftop makes this an experience you should not miss.
La Cabane
(400 Rue de la Commune Ouest) is probably the biggest name in Montreal for the cabane a sucre experience. La Cabane is open Wednesday to Sunday with brunch on weekends and dinner from Wednesday to Saturday (closed Monday and Tuesday).
La Cornettaria
(6528 Boulevard Saint-Laurent) is offering up their famous cronetos with a maple twist. The Cronut-esque delights are sure to make all happy and if you are looking for a light snack, it can be yours for $4 a piece.
La Prunelle
(327, ave. Duluth E.) is offering a special limited time Sunday brunch on March 30th and April 6th. This maple syrup inspired menu has 6 mains priced at around $15 each.
La Scena
(Pavillon Jacques-Cartier) is another Old Port pop up with services on Friday, Saturday and Sunday evenings as well as Saturday and Sunday lunch service. Scena runs from March 14 to mid April.
Le Richmond (377 Rue Richmond) over in Griffintown has a Sunday brunch that is maple inspired. Here you will find various menu items ranging from the super traditional like the split pea soup to more modern Montreal brunch dishes like lemon ricotta pancakes.
Restaurant Pied de Cochon (536 Avenue Duluth E.) although their cabane a sucre is a good 45 minutes out of town, did you know that they have a Sunday brunch with a Dim Sum style approach? Did you also know that many of the dishes on the menu at the cabane are also available at the restaurant? Well now you do, so if you can't get reservations for the cabane then try out their Sunday brunch it's open 10-2pm and it's walk in only so no reservations.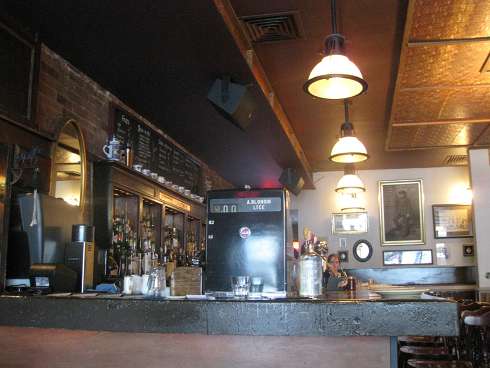 Sparrow (5322 Boulevard Saint-Laurent) is back again with its cabane a sucre brunch and dinner from Friday to Sunday until the end of March. This is an all you can eat formula for $30 with a vegetarian option as well.
4 Comments »
RSS feed for comments on this post. TrackBack URL
---