The 411 New York the land of Brunch! Every time we come here the is a brunch discovery awaiting us. This city that never sleeps, that is always moving seems to make the time for a weekend brunch with truly unique dishes and some liquid nutrition. This trip was no different. Last time we spent most of our days in Brooklyn but this time we did an even split between Manhattan and Brooklyn. However, the brunch was all in Brooklyn which has never let me down in terms of food options.
At 1st glance Miriam is an Isreali restaurant. What does that mean? I don't know really since I've never seen any back home. From what I can get from the menu and the internet, it's kind of a Mediterranean meets North Africa meets Middle East meets Eastern Europe. Some dishes that stand out are Falafels and Shakshoukas, to name a few. Miriam prides itself on fresh ingredients, organic eggs, and a seasonal menu. These are a few things that make me happy since fresh, healthy and original are things I always like to see on my plate.
Food The menu offers a mix of Isreali dishes and some modifcations on old classics. You will see items like Shakshukas, Burekas and there will be a croque madame made with challah bread, and eggs Benedict. Most items are $12.50. They are open 7 days a weak. The menu breakdown is as follows:
3 Eggs Benedict: $12.50
3 Omelettes: $12.50
1 Croque Madame: $12.50
1 Steak & Eggs: $12.50
1 Crispy dough: $12.50
1 Shakshuka: $12.50
1 Isreali Breakfast: $12.50
1 Potato pancake: $12.50
1 hardened egg: $12.50
2 pancakes: $12.50
1 Challah bread French toast: $12.50
1 Two Eggs, any style: $8
1 Soup of the day: $7
2 Salads: $8
4 Sandwiches: $12.50
1 Falafel Platter: $12.50
1 Chicken Shawarma: $15.00
18 sides: $1.50-$7.50
We started off with the Shakshouka ($12.50) which is a traditional dish that has begun to find itself on brunch menus more often. In this shakshouka you find tomatoes, chopped vegetables and two eggs. It also came with a side of pita and hummus which was very helpful when eating this dish. The shakshouka was impressive; the consistency was not as thick as what I am used to but the taste clearly delivered.
The Sabich sandwich ($12.50) was stuffed with an avocado, hard boiled eggs, mango chutney and loads of veggies. It also came with a salad and fries. The first bite I took I could not believe how light and fresh it was yet, it was so loaded with stuffing that I was full near the end. To this day I still dream about this dish and how unbelievable the taste was. On future trips I have actually ordered it again, it's really that good, don't pass up on it if you get a chance to have it.
We also had Burekas ($12.50) which came with a side of eggs, cheese, salad and tahini sauce. The Bureka was stuffed with feta and olives. This dish was very tasty and presentation was clean, precise and light.
We ordered a pancake on side as a little extra to sample one of the more classic dish and it was fluffy and moist with a nice thickness and was a nice addition to our ethnic themed dishes.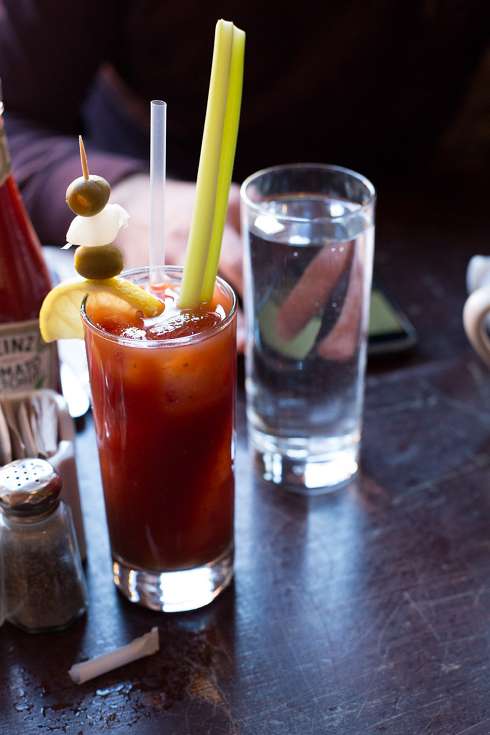 Now, no trip to New York would be complete without a morning drink and our drink reviewer Jay Pendergast III is always up to the challenge:
Miriam's Bloody Mary is fantastic for three reasons: location, location, location. If there exists a Bloody Mary in Brooklyn that isn't extraordinary, I have yet to encounter it. Their rendition of our red potion of choice gets one "Bloody" facet of flavour right better than anyone else's version in the brunch cocktail game: the spice. Pureed jalapenos provide the best spiciness I've ever seen in a Bloody Mary. Not an overpowering fire but a strong enough temperature with a great spicy taste. This puts it in the absolute perfect place on the scale between no heat whatsoever and blaze from whole chunks of ghost peppers. If you like them spicy, this one will become your instant favorite.
Service
Service was decent and they were helpful in explaining the items. The bill came promptly.
Vegetarian
Most dishes on the menu are vegetarian friendly and there's lots of choice which is nice to see. In terms of vegan dishes you may be out of luck since dairy and eggs show up in a couple dishes.
Wrap up
I adored Miriam and I would without any hesitation return. I really loved the falafel and the Sabich sandwich I would strongly suggest getting them although all our dishes were impressive. If you have a large appetite some dishes will do a better job than others so do ask since the descriptions don't really imply how filling a dish is.

View Miriam in a larger map
| | |
| --- | --- |
| Bottomless Cup Of Coffee | YES |
| Credit Cards | YES |
| Web Site | YES |
| Debit Card | YES |
| Kid Menu | NO |
| Vegetarian Friendly | YES |
| | | |
| --- | --- | --- |
| Price | $$ | $12.50 |
| Overall | | 4.5/5 |
| Wheelchair Access | NO | 0/3 |
| Parking | Street | Difficult |
| BUS | N/A | N/A |
| Metro | N/A | N/A |
No Comments »
RSS feed for comments on this post. TrackBack URL
---