Chateau Vaudreil – All you can eat brunch by the water
The 411
In life there a few things that really rock my boat; one of them is brunch and the second is weddings and in particular, the food at weddings. Now, when I found out that one of my friends was getting married I was really happy and then when I found out he was doing a wedding brunch at Chateau Vaudreuil, I was ecstatic. I have heard very good things about brunch here, a few of my friends went and were very impressed. I had been here only once before but not for the brunch and remembered that it was an impressive location bordering the water and with really nice views and good service.
At 1st glance
Now, Chateau Vaudreil is not exactly in Montreal, it's kind of west and by west I don't mean west Island I mean off the Island in the Vaudreil sur-le-lac / Vaudreil-Dorion area. The brunch is only offered one day a week on Sundays and will cost you $39 for adults, $19.99 for 4 to 11 year olds and free for children under 3 years. The hotel itself is very nice with rich wood leather seats on the inside and the restaurant sits at the end of the main hallway. They have a sign for proper attire which I assume means the normal stuff, you know the "no shirt, no shoes, no service" deal as well as some essentials like no mullets, and NO crocs. There is also an awesome outside terrace with an ample seating area that, on a sunny day, is breathtaking especially with the water close by.
Food
Wow where to begin, since there's so much food. Right off the bat I do need to be clear that the offering is more on the lunch side of brunch than on the breakfast side. The setup is such that you get the all you can eat buffet then an option from the menu which is usually a chicken or beef dish. Since this was a wedding the menu is not the same so I will focus on the buffet component. In the buffet you will not find a dozen omelettes, or waffle stations or eggs done many ways. That being said you will see Eggs Benedict, warm crepes, stuffed crepes, smoked salmon, chocolatines,
croissants, fresh fruit and some other non traditional yet brunch-like food items such as mussels, calamari, a chocolate fountain and a wide assortment of cheeses to name a few. For those who want more of a lunch you can get your choice from the pasta station, an enormous dessert offering with lots of cakes, even vegetarians and vegans don't get left out with tons of varied fresh fruit, couscous, beans, vegetables, salads and olives. Now, like any brunch buffet you need to bring two things; your appetite and you're A-game, since lines will form and you will end up waiting for food unless you are smart (or willing to steal from a small child).
I had a bunch of stuff but will break it down into 3 dishes. The first one being comprised of eggs Benedict, stuffed crepe, mussels, smoked salmon, shrimp, calamari and lima beans. The eggs Benedict were very well done and the taste was present. They were also at the perfect temperature which is hard for buffets to get right since some places have them almost cold because they stay out too long but this was not the case. The smoked salmon was good and the mussels were fresh and tasty. The stuffed crepe was unique and was unlike any other kind of stuffed crepe I had. The jam they used had a nice sweetness that was not overpowering. The calamari was very good and I ended up getting some more on subsequent trips to the buffet.
Secondly came the sweet plate, this was because the lineup to the normal buffet section was really long. I took advantage of the chocolate fountain, which had 3 choices of fruit. This was situated near the pasta bar with chefs making pasta in front of you. I thought that this was a nice touch and although I did not feel like having pasta I can see how some people like it. The sweet table was loaded with varied fruit, cheeses, mousses, Jell-O, and lots of cakes, which were constantly being replenished, I think I counted almost over a dozen different types of cakes and pies (and by counted I mean ate). The selection was very diverse and everything delivered in the taste department. I also want to take this time to highlight one of my favourite brunch buffet techniques is that when the line is long in one section go to another station just because no one else is having dessert that doesn't mean that you can't. I would return a second time to the dessert section and end up getting some warm stuffed crepes as well as mini pastry's and more fruits (cherries, pear, pineapple…)
In between the two dessert plates, I went into a hybrid of salty and stuff that looked yummy, basically the main brunch line had emptied and everyone was at the dessert table. I loaded up on prosciutto, boccocini, fried calamari, battered broccoli and cauliflower. Although all the items on my plate were delicious the true stars were the fried cauliflower and broccoli, which had a nice yet not too greasy batter.
Service
Technically there is little service with a buffet but we did have staff come and clear our plates very frequently and the coffee refills were quite frequent. The staff was very nice and quick so I was happy.
Vegetarian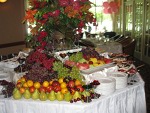 Although vegetarian and vegan options are often something I have to work hard to write on since most places tend to serve meat, the buffet offers many options and many of them are vegetarian and even vegan. There are lots of salads and an abundance of fruits, couscous, with vegetables ranging from cauliflower to tomatoes. You can actually get full on many varied options and not be limited to only a few choices. This is a much appreciated benefit since the weakness of most buffets in regards to vegetarian and vegan options is that those that they do have are very limited and boring. This is not the case here; you actually get choice.
Wrap up
Although the $39 is a good chunk of change to put down for a buffet, you do get a lot of choice and it is very tasty and fresh. In fact, as brunch buffets go, this is the one with the best quality of food I have ever been to. Also, the fact that you get a full course after the buffet (although excessive since the buffet is enough) you can ensure that you will not walk out but rather roll or waddle out from the loads of food you will consume. The only criticism I have is that I would have liked a couple more options that are traditional breakfast since this leans more on the lunch side than breakfast – maybe adding an egg/omelet station would be a nice touch. I suggest checking it out if you are in the mood for a nice brunch buffet as well I strongly suggest eating outside on a sunny day as it really adds something to the experience.
21700, route Transcanadienne
Vaudreuil-Dorion, QC J7V 8P3
(450) 455-0955

Sunday 11:30 a.m.- 4:00 p.m.

MAP

View Chateau Vaudreuil in a larger map
| | |
| --- | --- |
| Bottomless Cup Of Coffee | YES |
| Credit Cards | YES |
| Web Site | YES |
| Debit Card | YES |
| Kid Menu | NO |
| Vegetarian Friendly | YES |
| | | |
| --- | --- | --- |
| Price | $$$$ | $39 |
| Overall | | 4/5 |
| Wheelchair Access | | 2/3 |
| Parking | Parking Lot | Ample |
| BUS | | N/A |
| Metro | | N/A |
4 Comments »
RSS feed for comments on this post. TrackBack URL
---