The 411 Atelier Argentine is a relatively new place opening in the old location of DNA. I had heard of it from a friend of mine who had dinner there and saw that they served brunch. He enjoyed the dinner so we decided to try out their brunch and see what it would be like.
At 1st glance The interior remained unchanged for the most part, from what DNA had, although they did change the left side of the entrance along with the washrooms. The main dining area is quite enormous and looks breathtaking. There is lots of natural light coming in and even on a cloudy day it's not dark. Atelier Argentine is ideal for a large group booking on account that there is a large capacity and they take reservations.
Food The first notable item is that Atelier Argentine has a meat focused theme. Naturally, from an Argentine steak concept we would expect meat inspired dishes, but many of the dishes are also rather classic brunch fare. Prices range between $11 to $14 with coffee being $3 and there are no free refills nor is there drip coffee. The menu breakdown is as follows:
Fritatta: $14
Yogourt & cereal: $12
Scrambled Eggs: $11
French toast: $10
Fried eggs & pork belly: $14
Eggs and smoked meat: $10
Eggs and smoked bacon: $11
Eggs Benedict: $14
Quiche: $12
Bottomless Bloody Maria: $19
We were a group of four and were able to get a nice table. The place was rather empty so reservations are not really necessary but I can see how this would work well for a large group.
We all decided to go for the bottomless (all you can drink) bloody maria $19 which is allows you to garnish your own drink and have free refills. This option is interesting since it allows you to have a boozy morning and the dress-your-own-drink concept is quite entertaining. I will save the drink review for our resident drink expert Jay Pendergast III:
When the first round of Bloody Mary's arrived, they had all the appearance of having been made at a friend's house party: not terrible looking but nothing special. They were your typical, run-of-the-mill, sanguineous-red, celery-salt-rimmed glass, tomato juice concoctions. There was nothing discernible about them at all. At their very sight we exclaimed how we'd expect an Argentine restaurant to add some sort of Argentine twist to the drink; something other than calling it a Bloody Maria: a Spanish twist of its name and not an indicator that it contained tequila instead of vodka. Halfway through our drinks, we exclaimed that chimmichurri and chunks of steak would definitely produce a national flavor keeping with the brunch's theme. Moments later the garnishes arrived composed of green olives, cocktail onions, and you guessed it, chimmichurri sauce. The condiments added a sense of fun to our drinking experience but little in terms of actual flavor. The steak sauce, minus the steak, added parsley, oregano, and oiliness to the drink while the tiny orbs tasted as you would expect. For all its underwhelmingness, this Atelier's Bloody Mary was actually pretty good. What it lacked in creativity, it more than made up for in quantity, which happened to be all-you-can-drink. I encourage you all to take advantage as I did with three singles and a double.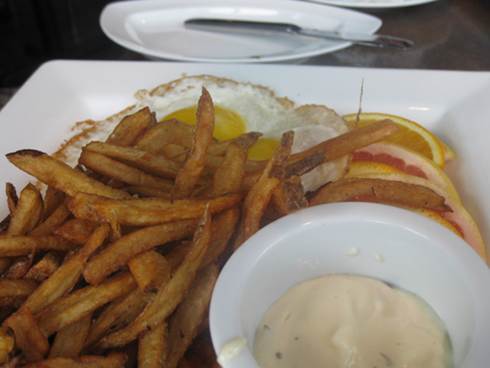 We started with the huevos revuelto ($11) which were comprised of 2 eggs (any style), smoked bacon, maple syrup aioli and French fries. This dish was fair, nothing outstanding and the option of fries is nice and of a large portion. The smoked bacon was nothing extraordinary.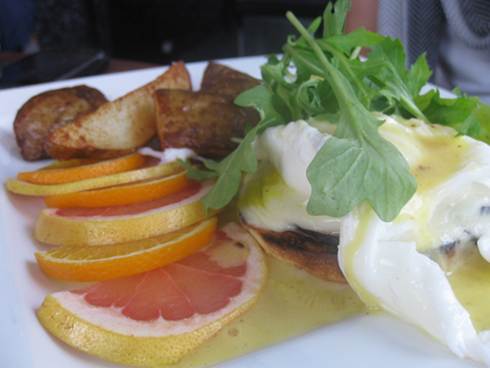 The huevos benedicto ($14.00) is poached eggs, grilled smoked ham and potatoes. Although the description along is not overly impressive, the taste definately was and it was by far the best of the dishes we had. The ham was incredibly tasty and made the dish stand out.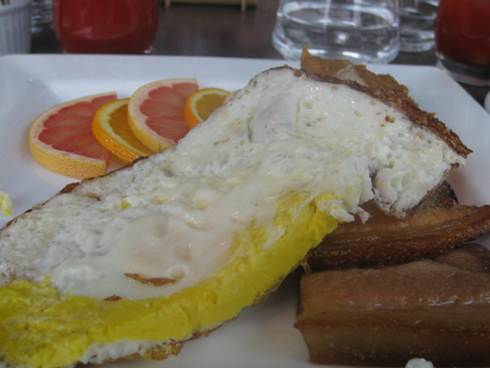 Lastly, the huevos con tocino ($14.00) had fried eggs, pork belly and bread pudding. The eggs was a tad over done for my taste but the pork belly was a nice touch and is something you don't see often. There were a bunch of pieces so if you are a fan you get a decent amount. The bread pudding is quite creative and an interesting addition. As a whole, the dish did not knock my socks off but I do like the effort and creativity put into its creation.
Service
Our waitress was good and answered all our questions. We did wait a little more than we wanted for the food to be ready, and there were not that many people there.
Vegetarian
The menu does have two or three vegetarian options but alas, no vegan or health options but it's not that type of place so one would not expect it on the menu.
Wrap up
Overall this place works for large events, like anniversaries, bridal parties, etc… The venue can hold lots of people the food is not exorbitantly expensive but it climbs when you start to add stuff. The bottomless bloody Maria's are brilliant and help for that boozy brunch you may be looking for.
355 Rue Marguerite d'Youville
Montreal Qc,
H2Y 2C4
(514) 287-3362
Sat-Sun 10:30 – 15:00

MAP

View L'Atelier d'Argentine in a larger map
| | |
| --- | --- |
| Bottomless Cup Of Coffee | NO |
| Credit Cards | YES |
| Web Site | YES |
| Debit Card | YES |
| Kid Menu | NO |
| Vegetarian Friendly | YES |
| | | |
| --- | --- | --- |
| Price | $$-$$$ | $12-$15 |
| Overall | | 3.5/5 |
| Wheelchair Access | NO | 0/3 |
| Parking | Meter & Street | Medium |
| BUS | | |
| Metro | | 6 minutes |
No Comments »
RSS feed for comments on this post. TrackBack URL
---