Chez Levesque – Bistro meets Brunch and a touch of class
The 411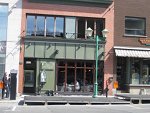 Brunch at Chez Levesque is something I have been wanting to try since I started this site. I have read various peer reviews of this place and all of them very positive; although, I do not know anyone that has tried it. For one reason or another I rarely end up in this area for brunch, so one day after trying out a yoga class in the area myself and two friends decided to try it out and see what it's like and if the reputation is merited.
At 1st glance
Chez Levesque can best be described as a classy bar bistro with an old school French influence, impeccable service and impressive presentation. The crowd is not your typical plateau mid 20's crowd but rather small groups and families some of which are 40 years plus; there were some younger people but for once I felt in the minority (and young). The interior has this religious theme to it with posters of cartoon priests, kneelers and a washroom with Gregorian chants on a cd playing. Did you know that the religious theme is a play on the restaurant's name, in French: Levesque = l'évêque = bishop (Thank you Adrien for this is tidbit of info). They have a large bar on the main floor, a street side terrace outside in the summer, and a second floor for extra seating. The décor is rich in wood and detail; it is an ideal spot for a special event and they do reservations although, they are not really required for brunch.
Food
The menu is a single page with prices ranging from $12-$15, coffee ($2.25) is not included but does come with free refills. The menu is has a few items and depending when you go you may run out of some items, like when I ordered a smoothie and they were out of yogourt. Normally, this would bother me but we did show up near the end of the service and their yogourt is apparently fresh so it is likely to run out. The menu is broken down as follows:
Eggs Benedict: 3 choices $12.50-$14.00
Eggs: 1 choice (different styles) $12.50
Specials 3 choices $14.50
My friend started with the vegetarian eggs Benedict ($14.00) which came as two perfectly poached eggs on English muffins with zucchini and asparagus topped with the perfect amount of hollandaise sauce. There was also a side of potatoes and a fruit cup. I felt the potatoes were a touch salty and not too many; although, the fruit cup was great and the grapefruit was particularly fresh and tasty and I don't even like grapefruit in general. Given a choice between potatoes and the fruit cup I would go for the fruit cup and I am very pleased that this was very fresh. In fact, the entire dish was fresh and bursting with taste as I really liked the use of these two vegetables in this dish.
The Brioche French toast ($14.50) was next which was two very thick slices of brioche bread topped with apple compote and fruit, as well as a caramel sauce. The French toast was spectacular and the generous thick slices were much appreciated; topping it with a compote and some fruit really adds that natural sweetness that is not too overpowering. The caramel was not too sweet which really complements the dish and does not take away from it.
Lastly, my friend ordered the Eggs Benedict classic ($12.50) which came with white ham on two poached eggs perfectly topped with that tasty hollandaise sauce and laid to rest on two perfectly toasted English muffins. Keep note that I used perfect many times here because, well, this egg Benedict WAS perfect. I have rarely had an eggs benedict so well executed; so tasty; and so well presented – it was perfection.
Service
The service was impeccable as our waiter was very helpful, very prompt, polite, and courteous. He came to check up on our refills and made sure we were satisfied and always around to make sure we were being served. I have rarely experienced such excellent service and it helped to explain one of the many reasons why people love this place.
Vegetarian
Most dishes here are vegetarian friendly. You should not be too worried and the vegetarian eggs Benedict is a true delight so you can get tasty dishes made with a vegetarian diet in mind. As for vegan options then you are out of luck since many dishes have eggs in them.
Wrap up
I loved Chez Levesque. Everything was great from the food to the service to the décor. This is an excellent spot for groups, anniversaries or anything that is a little special and different. The menu may be only one page and not really fall in the classic Canadian breakfast theme but the food is great and everything here is amazing. Overall, I strongly consider checking it out; it may cost a little extra but well worth it if you want a fancier experience.
1030 Laurier O
Outremont Qc H2V 2K8
(514) 279-7355

Sat-Sunday 10:00am – 16:00pm
MAP

View Chez Lévèque in a larger map
| | |
| --- | --- |
| Bottomless Cup Of Coffee | YES |
| Credit Cards | YES |
| Web Site | YES |
| Debit Card | YES |
| Kid Menu | NO |
| Vegetarian Friendly | YES |
| | | |
| --- | --- | --- |
| Price | $$-$$$ | $12-$15 |
| Overall | | 4/5 |
| Wheelchair Access | NO | 0/3 |
| Parking | Parking Meter & Street | Easy |
| BUS | | |
| Metro | | 15 minute |
4 Comments »
RSS feed for comments on this post. TrackBack URL
---